Submitted by

ACTNOW

on Sat, 01/04/2023 - 12:06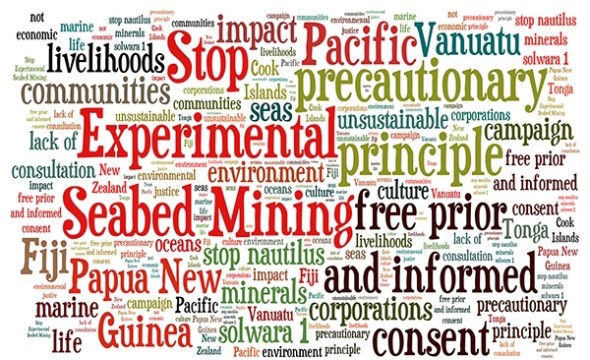 Reilly Kanamon | Social justice advocate | via The National
WE do not know why it was so difficult for the mining minister to respond to concerns from maritime communities in the Bismack Sea regarding seabed mining issues.
Since the new miner Deep Sea Mining (DSM) Finance started pursuing the reopening of the Solwara project, the communities opposed it.
All for the same reasons previously with Nautilus Minerals in 2019 and successive years.
The communities have expressed views in the media and through a community objection lodged at the Mineral Resource Authority in February, demanding a ban on explorative seabed mining licences in PNG.
PNG is not desperate for seabed mining.
We have many mineral deposits on the land for another century.
It is a shame our minister responsible is ill-informed on the potential impact of seabed mining in our ocean.
Generations will suffer when the pristine ocean we once enjoyed for the tuna stocks and rich marine life will be reduced to nothing.
Seabed mining is profit-driven for the benefit of miners and industrial countries more than for the local Bismarck communities.
If we can not manage mine waste from Porgera and Tolukuma mines, the precise risk of seabed mining is unknown but detrimental as per scientific knowledge we have.
Our Pacific Island leaders are opposing DSM for the good of the Pacific oceans, yet our minister and government seem to show poor indecisive leadership by allowing miners' interest over the health and wealth of our ocean.
The New Zealand Government has made its stance clear to protect the Pacific Ocean from seabed mining.
Yet here in PNG, the Minister for Mining said that the Government was pursuing Solwara 1 talks for seabed mining (The National, March 24).
There needs to be a serious investigation into why the State is promoting the interest of exploitative mining over our peoples' rights to the protection of their environment and way of living.
Whose interest will seabed mining serve?
Does the Government of PNG have the capacity and expertise to mitigate the negative impacts in our oceans after the miner leaves our shores?
We need matured decision-makers in Parliament who can look beyond the life of mining and see what will become of the future generation from selfish profit interests.
I am from a province in the Bismarck Sea and my people will also see the impact of seabed mining, not the mining minister or Prime Minister who never grew up in a maritime province in the Bismarck Sea.
Our future generations will remember this government and the minister who allows this mining activity when they can no longer see the pristine Bismarck Sea after the life of seabed mining.