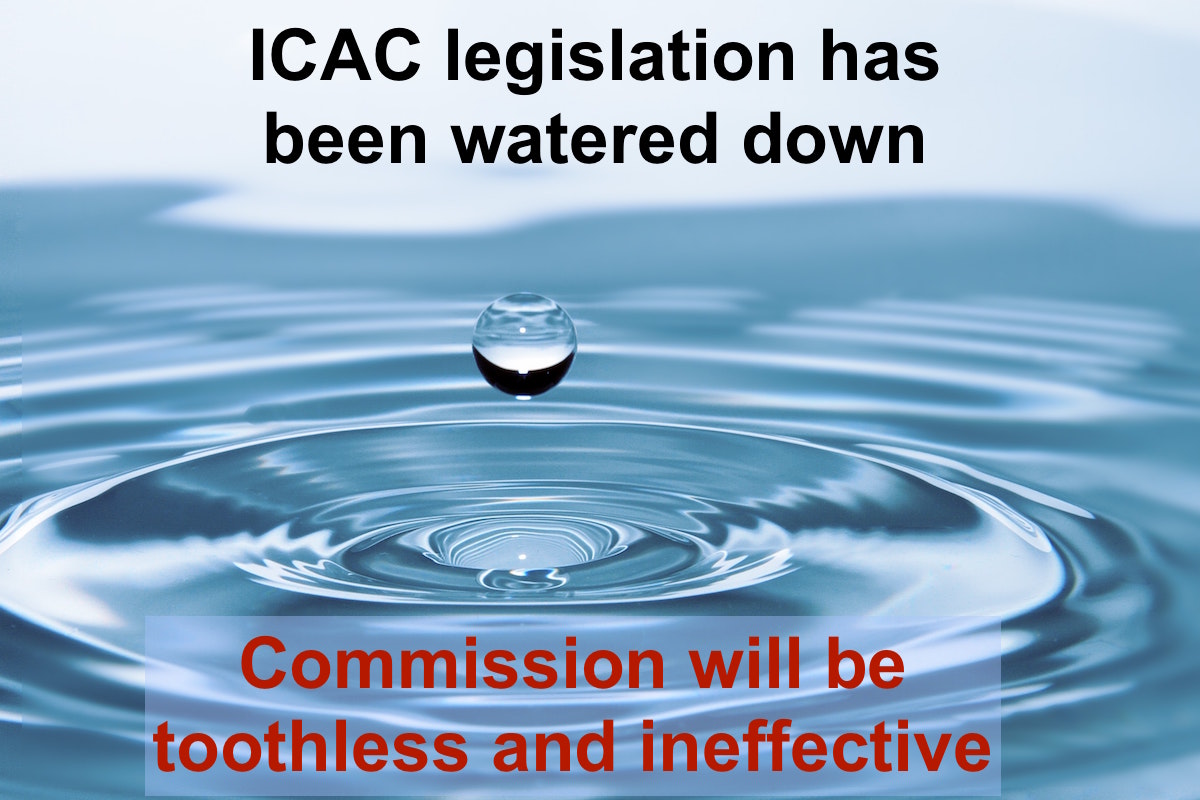 Papua New Guinea's proposed Independent Commission Against Corruption could end up being an ineffective and toothless organisation as a result of government changes to the draft ICAC bill [can be downloaded below].
Expert analysis shows the government has watered down the draft legislation to remove key powers from the proposed agency, despite claims to the contrary from the Prime Minister and Attorney General.
A close inspection of the proposed ICAC legislation shows, for example, changes to the definition of 'corrupt conduct', in particular in relation to unexplained wealth.
The following wording, which was paragraph 1.7(1)(f) of the original draft bill prepared by United Nations advisors, has been removed:
"the possession by a public official or one or more of his family members of unexplained wealth, being a disproportionate value in the property of the public official or family member or members compared to his, her or their lawful income".
The change has been made despite the advice in the original draft that;'the definition of 'corrupt conduct' [is] very important and the Law will not work unless these definitions are satisfactory.'
There are also important changes made to the rules on self incrimination, which extend the privilege to cover documents provided by a person during an investigation. This change would seriously undermine the ability of the Commission to use summonsed documents, such as bank statements for example, in any criminal or civil proceedings. This could lead to the bizarre situation where the Commission could publicly report a finding of corrupt conduct but the corrupt person could not be charged with a criminal offence and the money could not be recovered!
The gazetted version of the ICAC law had already contained some worrying changes such as giving an absolute power to the Prime Minister to effectively block investigations into corrupt conduct where it involves decisions made by the National Executive Council.
It is also not known why the government has backtracked on its engagement of respected Australian lawyer and former judge, Graham Ellis SC to head the ICAC. Judge Ellis was originally appointed by the Prime Minister to head the interim-ICAC in 2014, but his taking up the post was delayed by litigation by the former Task Force Sweep head, Sam Koim. In April 2017, when the litigation was dismissed, the Supreme Court was told Ellis was ready to take up his position and could be back in Port Moresby within days. Since then his name has not been mentioned.
Why was Judge Ellis so unceremoniously dumped and is that connected in any way with the recent changes to water down the draft legislation?