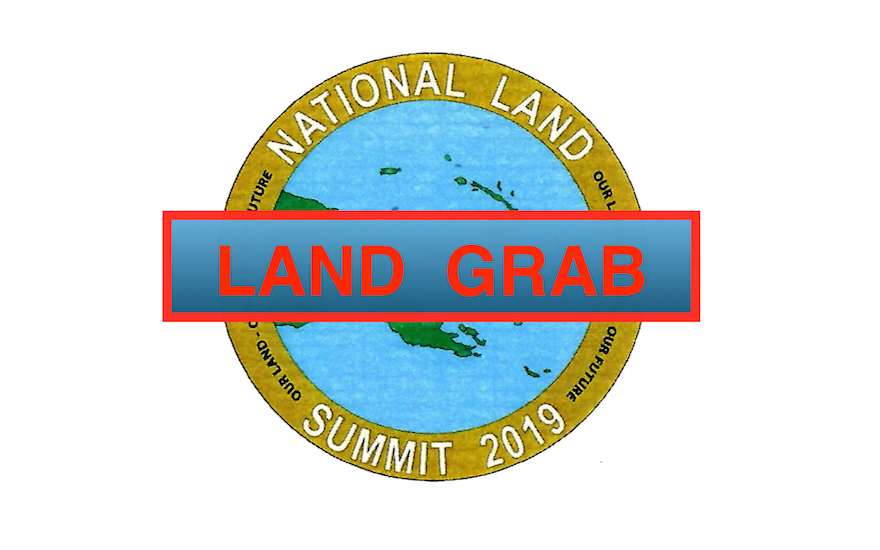 The recently completed National Land Summit is just the latest manoeuvre by government to try and take control of customary land away from communities. That fact is exposed in both the 2019 Budget Statement and the recently published Summit Outcomes [attached below].
For more than two decades the government, with encouragement from donors and other outside actors, has been undertaking a dedicated program to reduce the amount of customary land across the country. 
Two mechanisms have traditionally been used. The first to be introduced was Incorporated Landowner Groups (ILGs) in 1974. ILG's were originally intended to allow customary groups to create a corporate body so they could take back control of land previously alienated for agriculture plantations and partake in small-scale economic activities. However, they have since been abused as a de facto system to obtain consent for large-scale resource extraction and enable 'benefit sharing'. 
This abuse was most flagrantly exposed via the second mechanism, the Special Agricultural Business Leases (SABL). From 2003, SABL leases led to an acceleration of customary land alienation.
SABLs were intended to allow landowner groups to lease small areas of customary land for agricultural purposes. However, between 2003 and 2012, around 5.5 million hectares of customary land, or around 12% of our total land area, passed into the hands of national and foreign corporate entities via the SABL mechanism. The main beneficiaries were unscrupulous logging companies, which acquired large areas of forest for logging under the pretence of developing agricultural projects. Approximately one-third of PNG's logging exports now come from SABL-leased land. It is through this scheme that PNG is now the largest exporter of tropical timber. 
All this took place under a series of specific government policies and actions dedicated to undermine customary land tenure.
For example, in 2007, changes to the SABL laws created loopholes that severely accelerated the proliferation of SABL leases. The Somare government set a goal of reducing the amount of customary land to 89 percent by 2020 and 80 percent by 2030. With the SABL leases, it reached its 2020 target 9 years ahead of schedule, in 2011. 
Not much changed after the transition to the O'Neill regime. 'Unlocking land for productive use' and development was the first priority in the 2013 Medium Term Development Plan. One key objective in the plan was to 'provide a secure, well administered land market that serves the needs of landowners and contributes to the nation's strategic development.' Indeed, officials from the Department of Agriculture and Livestock revealed to the Oakland Institute in 2013 how the priority of their department was 'to free up land for development.' Explaining that people were too attached to their land, one official said that it was critical to change the mentality so that people will 'give away their rights to their land' so this land could be 'developed'. 
The government was initially very explicit about the intention for the 2019 National Land Summit in its public advertisements and correspondence. 'I am championing this summit with the intent to explore options with strategies aimed at mobilizing customary land for development,' Minister for Lands and Physical Planning, Justin Tkatchenko, stated.
However, criticism from civil society groups such as Act Now! and other commentators, brought about a change in emphasis. After the criticism, the government resorted to careful and positive language to justify the summit and tried to reassure the public that its intention was not 'to take away customary land from its owners'.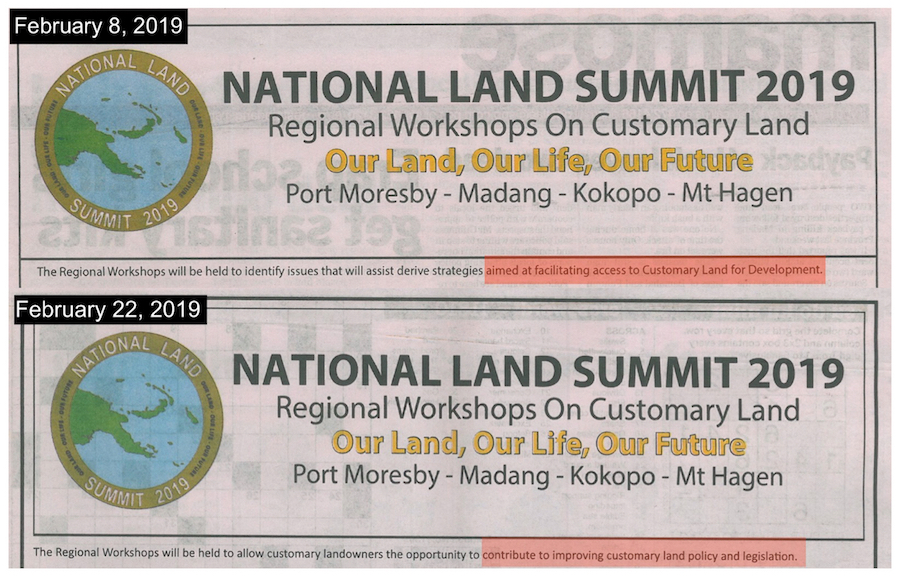 The government changed it's language after strong criticism, but it's intentions stayed the same
However, the 2019 National Budget states explicitly that the Summit is part of a 'land reform process' and that the goal is to ensure 'private sector growth' and 'the registration of customary land for commercial use.'
Although the government has tried to claim that the land summit will not result in further alienation of customary land, land-based 'private sector growth' will inevitably mean the expansion of activities in logging, palm oil, mining and oil and gas sectors. After all, the 2019 budget also emphasises that 'extractive projects [are still] at the forefront of PNG's development aspirations'. 
The government's agenda to turn over more customary land to the private sector can now been seen reflected in the published outcomes from the Summit (see pdf download below).
These outcomes include further moves to make customary land titles 'bankable' as security for loans, giving further incentives for greater private investment to commodify land, and reopening the debate on the future of existing SABL leases, which were supposed to have been cancelled, and reneging on the commitment to abolish the laws allowing any further leases to be issued.