Submitted by

ACTNOW

on Mon, 24/08/2015 - 09:39
In February 2015, CRR ranked investment in Kuala Lumpur Kepong (KLK) as "High Risk" among others in view of gaps between sustainability commitments and its high risk ventures in Liberia, Indonesia and Papua New Guinea. KLK recently launched its December 2014 to June 2015 Sustainability Policy Progress Report. Although the report offers reasonably material responses to stakeholder concerns, it is incomplete in declaring the Group's attempts to enter into another questionable joint venture in Papua New Guinea. KLK has not disclosed its recent high-risk dealings in the country to Bursa Malaysia, but, in private correspondence, the company denies knowing of the personal involvement of a PNG Minister in the deal...
AidEnvironment
KLK attempts to enter Sepik Province
On 7 August 2015, PNG's Minister for Trade, Commerce and Industry, Richard Maru, gathered at Government House for the signing of a Heads of Agreement that would make KLK an equity partner in the development of  a 37,000 hectare oil palm project in East Sepik's Special agriculture Economic Zone (SEZ).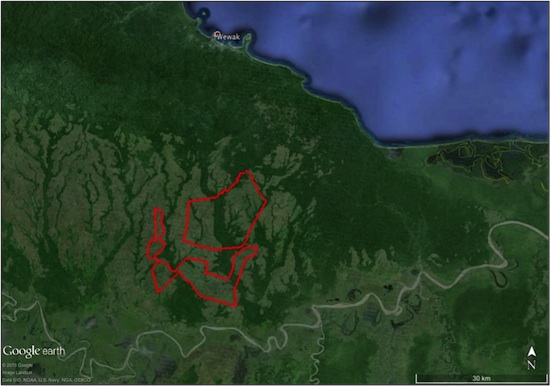 Minister Maru reportedly said that the National Executive Council (NEC) took the decision to enter into the agreement with KLK after the State could not agree to terms with Wilmar International to develop the project.
The SEZ is a government driven economic development plan, wherein the Independent Public Business Corporation (IPBC) holds the State's 30% shares in any joint venture investment in the Sepik Plains through Sepik Agro Industries Limited. 
On the day that KLK, Maru and other government officials gathered in Port Moresby to sign the Heads of Agreement, it was reportedly found that the paperwork was not in order, twice. By the end of the day, the signing was put on hold for a later date.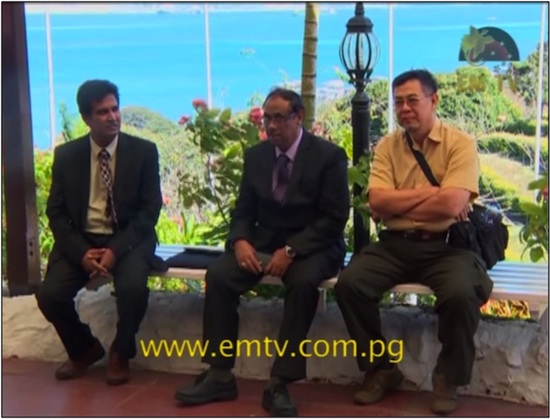 KLK officials waiting to sign the Heads of Agreement with Minister Maru in the Government House in Port Moresby. 
Sepik Agro Industries owned by Minister Maru
The exact reason why the signing of the Heads of Agreement was postponed remain undisclosed. CRR believes that the hick up may be related to the conflict of interest on part of Minister Maru, who was, until January, listed as the sole shareholder of the intermediate between IPBC and KLK, Sepik Agro Industries: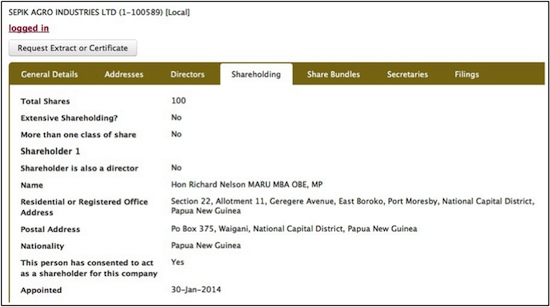 Investment Promotion Agency abstract. May 19, 2014
According to company records the Minister transferred his shares to the Independent Public Business Corporation in January 2015 for an undisclosed 'cash consideration'. However, no changes were made to the listed Directors of the company, of which there are only two. The share transfer refers to Minister Maru as the company Charirman, although he is not listed as a Director. It is not stated whether he continues in ths role.
Wilmar International declines to confirm or deny that Maru's conflict of interest led the company to abandon its involvement in the SEZ in 2014. A representative stated he regretted that Wilmar had to forego the opportunity to develop vast areas of underutilized grasslands and conserving some 8,000 hectares of lowland rainforest.
"However, sustainability is not merely about forests. It also requires that highest business ethics are up kept". 
KLK's sustainability policy also states that the group "shall conduct business in an honest and ethical manner, and comply with applicable laws and regulations." 
Apart from business ethics, the question arises whether the land will be productive.
According to a 1992 soil survey of the Urimo State Land lot (14,775 hectares) by the PNG Department of Agriculture and Livestock, not a single hectare is suitable for tree crops due to drainage and fertility limitations. Whilst KLK could perhaps afford the cost of importing fertilizers, there is real concern that communities in and around KLK's planned development will be enticed to plant oil palm, only to find that the soil is utterly unsuitable without heavy fertilizer input.
Ms. Lim Poh Poh, KLK representative, when questioned about KLK's involvement said the company was not aware of Mr Maru's personal involvement and has not yet assessed the suitability of the site for oil palm:
KLK received an invitation from the Government of Papua New Guinea ("PNG") to investigate the feasibility of developing oil palm on State-owned land in the Sepik Plains. The invitation we received was made through PNG's Ministry for Trade, Commerce and Industry of which Mr Richard Maru is its current Minister.

We are not aware of any personal interest of Mr Maru in the proposed development, as the PNG Government had confirmed earlier that as at 10 April 2015, Sepik Agro Industries Limited is wholly-owned by an entity known as Independent Public Business Corporation, which in turn is wholly-owned by the PNG Government.

Arising from the invitation, the PNG Government proposed to sign a non-binding Heads of Agreement ("HOA") with KLK. The HOA provides for KLK to conduct a due diligence exercise on the proposed oil palm development which will include, amongst others, a feasibility study and a detailed environmental plan. It is our intention to conduct a formal due diligence exercise only after we have signed the HOA.

It is KLK's intention to only venture into areas where the development of oil palm is beneficial to, and has positive socio-economic impact on the indigenous and local communities. This commitment is encapsulated in KLK's Sustainability Policy, which can be downloaded from our website.

We will  proceed with a comprehensive due diligence exercise once the HOA is executed. We welcome Aidenvironment's further input or any other relevant information that Aidenvironment is aware of, which may assist KLK in our diligence on the proposed oil palm development. 

Once again, we would like to reassure all stakeholders that KLK will uphold the commitments stated in our Sustainability Policy when making any decisions in relation to new investments.
Entry into Collingwood Bay (PNG) failed; exit pending
KLK's interest in the questionable SEZ deal emerges approximately a year after KLK surrendered to a law suit filed by Collingwood Bay land owners against the KLK's plans to clear and plant customary land without having secured land owners' consent. KLK continues to hold on to a piece of heavily forested state land in Oro Province even though KLK's CEO Lee Oi Hian has acknowledged that the company cannot likely plant the lease area without irrevocably violating its own sustainability policy and the terms of its membership of the Roundtable on Sustainable Palm Oil (RSPO).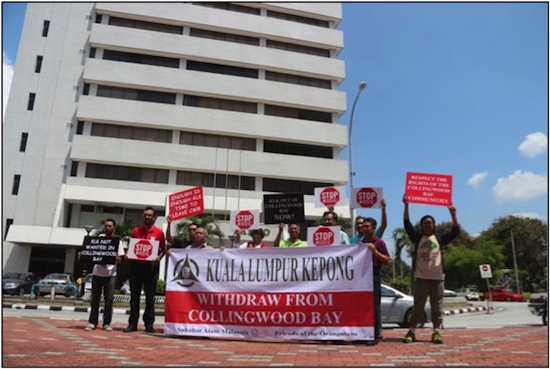 Malaysian activists demonstrate against KLK's oil palm plans in Collingwood Bay, Papua New Guinea. Ipoh, October 2014
Sources
"Malaysia oil palm company to help with Sepik project." The National, Monday July 13th, 2015
"Why is Trade Minister Richard Maru the sole shareholder in an oil palm company and a 'multi-billion dollar' project?" PNGExposed.Blog May 19, 2014.
Major Oil Palm Project on Hold." EM TV News. 7 August 2015.
"Sepik Plain Economic Zone." EM-TV Online. 26 January 2015.
"Sustainability Policy Progress Report. December 2014 – June 2015. Kuala Lumpur Kepong Berhad.
"Soil Survey and Land Evaluation of Urimo Livestock Station. East Sepik Province." Department of Agriculture and Livestock. 17 January 1992.