Submitted by

Elizabeth1

on Thu, 12/03/2015 - 13:39
Judge puts the law into practise and corrects corruption doers especially in the Lands Department and is adament that the police look into cases of corrupt land deals. It's about 'bloody' time! RUN the talk, we've been walking far too long!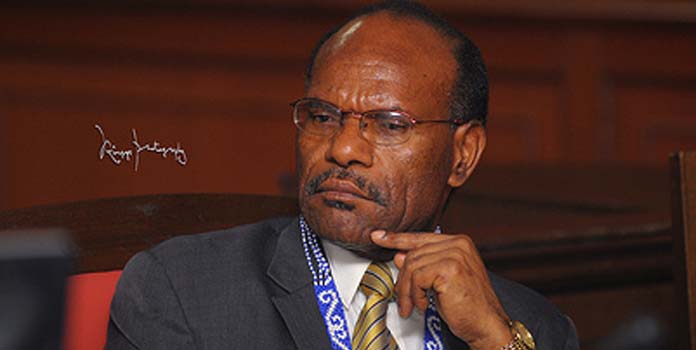 Photo: Judge Ambeng Kandakasi. Photo courtesy of PNGLoop
Source: PNG Exposed
Justice Kandakasi has slammed the widespread corruption in the Department of Lands and has called for police action against those public servants responsible for a long history of fraudulent leases and corrupt land deals.
In delivering his judgement in the case of Loa -v- Kimas, a case involving yet another fraudulent lease facilitated and enabled by people in the Department of Lands, the judge has stated:
Sitting in the National and Supreme Courts for a while now, I have come across more cases of possible fraud facilitated by the Registrar of Titles and other officers of the Department of Lands. This must stop and the only way to do that is to have proper investigations and those responsible being criminally charged and proceeded with. I would therefore strongly recommend (since I cannot direct the police) that the police take the relevant and necessary steps right away.
The judges comments come on the back of the SABL Commission of Inquiry which revealed more than 5 million hectares of customary land has been illegally leased to foreign companies by the Lands Department.
The Prime Minister has repeatedly called for the SABL leases to be revoked but as nobody has taken any action to remove the corrupt and incompetent officers responsible for issuing the leases - including acting Secretary Romilly Kila-Pat and Lands Title Registrar Ben Samson - nothing has been done to cancel the leases.
Even the Minister for Lands has described his own Department as corrupt and dysfunctional:
I have seen first hand the blatant abuse of due process thereby promoting corruption and high level of inefficiency within the Department of Lands and Physical Planning. The system of land administration is corrupt and dysfunctional."
Blatant abuse of process facilitated by staff within the Department over the years has led to large areas of customary land being fraudulently leased to foreigners for as long as 99 years throughout the country.
In the interests of protecting Papua New Guinea land from being fraudulently transacted I will ensure that the recommendations of the Commission of Inquiry into the issuance of SABL are fully implemented.
Address at NRI, 29 October 2012
But again, no action has been taken to remove, let alone punish, the public servants responsible for this miserable state of affairs.
Why are our politicians so weak and seemingly unable to take decisive action against those involved in illegal and corrupt activities? Is it because the politicians themselves are also complicit in the illegal deals?