Submitted by

ACTNOW

on Thu, 05/03/2015 - 18:13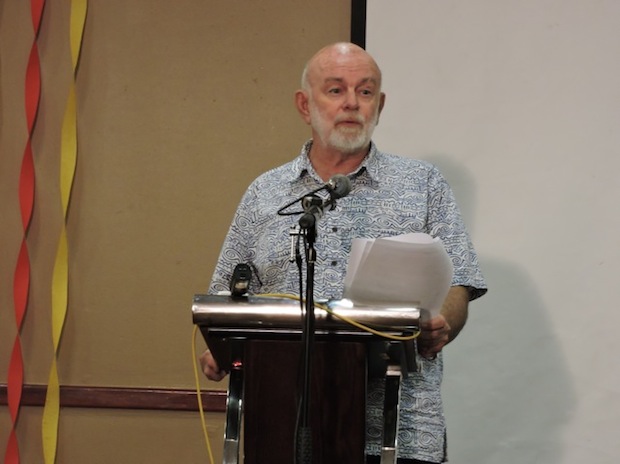 Photo: Lawrence Stephens, Chair TIPNG, giving his Keynote Address
KEYNOTE ADDRESS BY MR. LAWRENCE STEPHENS, CHAIRMAN, TRANSPARENCY INTERNATIONAL AT THE 5TH ANNIVASARY OF COMMISSION OF INQUIRY INTO FINANCE DEPARTMENT
Yesterday we saw headlines K1.2 million was reported by the media to have been stolen by a contractor falsely claiming to have done maintenance to toilets at Boram Hospital, Wewak. An investigation has been called for. And then I recalled the story from a Commission of Inquiry of an allegedly illegal diversion of K1.3 million from the Sepik Highway Trust Account to a new but officially unrecognised university in Port Moresby. The Inquiry recommended the official responsible be referred to the Police. Have we ever heard of an outcome?  One wonders how many other times the people of East Sepik have suffered real losses over the years. The costs thefts like these have been hitting provinces hard over many years.
On 12 May 2008 the then Prime Minister established a Commission of Inquiry into THE MANAGEMENT GENERALLY OF PUBLIC MONIES BY THE DEPARTMENT OF FINANCE.
The report of that Inquiry is dated 29 October 2009.
We are gathered here today to mark inaction on that Finance Department Inquiry. It has been five years since the COI report was presentedbut unfortunately, to date, no one appears to have been prosecuted. Where are the people that should be answering to the K780 million that was said to have been stolen or lost? These people should be brought to justice and, if fault is established, visibly punished.Yesterday's claims by a Member of Parliament are a reminder to us all that the findings of the Inquiry have not changed us, the failings uncovered continue to be applicable.
The community is grateful for work that has been done in recent years to uncover theft and prosecute those involved but we still have massive amounts of alleged fraud not addressed. This shames us all. This suggests that we are condoning fraud. Fraud in hundreds of millions means losses of assets which should have been applied to legitimate activities of the state.
We believe that people implicated by information provided to the CoI should have been investigated by those responsible under the law for the detection of crime and prosecution of offenders.
It is argued that the CoI was not actioned because legal action was taken to prevent authorities taking action. This appears to suggest that the legal system has been used against the very people it exists to protect.
We continue to insist that the guilty should nolonger receive assistance or protection in avoiding the investigation of their alleged crimes. Five years of massive inaction are five years too many. The cynical use of our legal system to frustrate or delay attempts to stop crime.
We all need to say enough is enough, "no more impunity!"
If a police officer sees a woman being attacked on a public street he might, as apparently many do, sit in his car and do nothing. Or he might see what is happening and leap into action to protect her interests and apprehend the attacker.
In our view the laws are clear and the obligations of our public officials are clear. Just as we expect the police officer to leap to protecting the interests of a victim so do we have the right to insist all our officials leap to the defence of general right not to be robbed.
Information provided to a CoI is public information. It provides guidance to responsible state officials in mounting investigation, plugging the holes through which money leaks and returning stolen funds to the people.
The information has been public for more than five years, much of it provided publicly during the Inquiry.
The lack of action by us all but particularly officials of the PNG government in general to respond to information presented to the Commission of Inquiry into the Finance Department appears to tell us that we clearly
do not have the people's interest at heart
do not have a true to commitment to combatting corruption
Corruption is widespread in the world and unfortunately in PNG, because the corrupt continue to get away with it.For five years we have continued to allow individuals named in the CoI to avoid investigation. This can't continue.
I congratulate Act Now for organising this public reminder that five years have passed. We need to be reminded and to remind others.
I quote from another report which has been available to us for 20 years now and appears not to have been acted upon.
The Barnett report, 19 February 2005
"From a position of modest prosperity there has been a progressive decline in moral and ethical standards in government, stagnation of the economy and largely unchallenged corruption.

Much corruption is opportunistic.  Systemic weaknesses drive opportunity.  Public administration and economic development in PNG is hampered by a lack of understanding or willingness by leaders to perform their public duty with integrity in accordance with the trust placed in them.  Often large inducements are offered to officials to breach the trust.  If the checks and balances in the official's area are weak it is easier to slide into situations that undermine integrity and lead to corruption.

A major driver is the low risk of discovery and punishment."
If information suggests that individuals have conspired to steal from us our authorities should be prepared to and be seen to take action. 20 years since the Barnett report, 26 years since the forest inquiry (1989),   Etc.
By standing together, we have the power to make a difference. We can support and insist on governmentaction. We can demand legal sanctions. Corruption must not pay and it's time we and our officials no longer tolerate impunity for the corrupt.
In conclusion, we call on the government to honour its commitment to eradicate corruption and promote integrity in public administration by acting on the recommendations of the Finance Department COI and bring all those guilty to justice and restore public trust.