Submitted by

ACTNOW

on Mon, 20/07/2020 - 12:17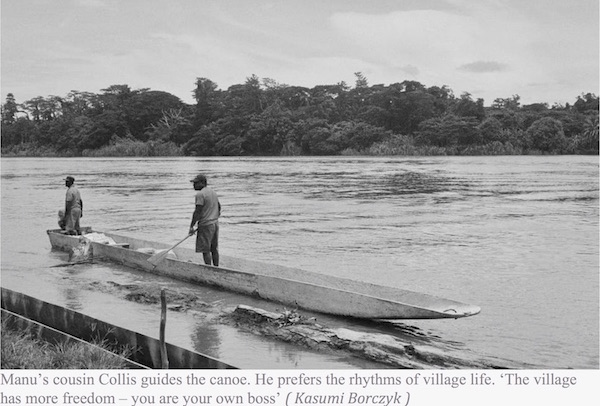 The battle against the 'environmental terrorists' destroying Papua New Guinea 
Source: Independent
An Australian-Chinese mining giant plans to extract thousands of tons of gold and copper from along Sepik River – which will destroy the ecosystem and the culture of the people who live there. Kasumi Borczyk travels the length of the river with Manu, one of the activists who plan to stop them. 
The Sepik is considered one of the greatest river systems in the world. When viewed from above it feels as though you are approximating something godlike, and when experienced from within you are confronted by your own mortality. There are 400,000 Papua New Guineans who live along its uninterrupted skein of green fabric, which flows from the Victor Emanuel Ranges to where it greets the Bismarck Sea. With a 7.7 million-hectare drainage basin – equalling the size of Scotland – the region is among the largest and most intact water basins in the Asia-Pacific region.

Emmanuelle 'Manu' Peni returned to the Sepik River after several stints as a hospital worker, a university lecturer in New Zealand, a technician in a biscuit factory in Port Moresby and a taxi driver in Vanimo. Manu is a small man, who speaks with the economical precision of someone in the process of shedding the unnecessary aspects of themselves. Local legend has it that when German mercenaries arrived, Manu's great-great-grand father shot an arrow directly into the barrel of a musket. That same razor-sharp aim lives on in his work, only the spirit of resistance has been transmuted by what modernity demands of it. 
His form of relaxation consists of drafting strongly worded emails to politicians. When we met, he had just recovered from a three-month bout of malaria. Those close to him tell me that this is his modus operandi — to work himself into a state of mental exhaustion only to re- emerge transformed. 
Permanent loss of biodiversity is a certain outcome ... and the integrated storage facility, 2.5 times the size of Sydney Harbour, risks breakage and will need to be maintained forever

In 2015, Manu founded a grass-roots environmental organisation called Project Sepik. The goal: to stop the Frieda River project – a plan to mine one of the largest undeveloped copper-gold deposits in the world. The project is run by Panaust, an Australian and Chinese mining company, which proposes to extract the equivalent of 34,722 football fields of gold and enough copper to blanket Central Park 55 times over. The $1.7bn project includes the construction of a 160MW hydroelectric dam and power station, a crushing, processing and dewatering plant, a maritime port, a construction pipeline, 120km of newly built road, an airport and the relocation of four villages. 
One independent scientist noted that "permanent loss of biodiversity is a certain outcome" of the project and said at least 85 new species of plants and animals were discovered during field surveys. Another noted that the integrated storage facility will be 2.5 times the size of the Sydney Harbour and its risk of breakage "will need to be maintained forever – not just the 33 years of mine life that has been planned for". Yet another concludes that "the majority of the risk will be mortgaged to future generations that live downstream and the future state of PNG that will have to manage the legacy left by this project."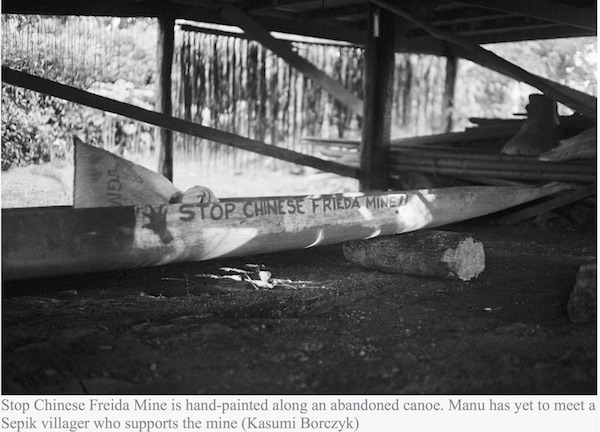 Resource extraction has become a fixed feature of the drama that continues to unfold in a nation beset by the paradox of plenty. Consider one of the worst man-made environmental disasters in history: the collapse of BHP Billiton's OK Tedi tailings dam. In the country's Western Province, the equivalent of a 10-ton truck of chemical waste was dumped into the Fly River every five seconds for the course of several decades. Consider also Papua New Guinea's bloodiest conflict, the Bougainville Civil war. An estimated 20,000 Bogainvilleans were killed over conflicts arising from Rio Tinto's copper mine. 
It's the rainy season in the Sepik and the sky is a bruised grey. Our dug- out canoe cuts through the river's centre, leaving a ribbon of brown water in its trail. Manu and six volunteers are attempting the improbable: they are collecting signatures from the chiefs of every village downstream to the mine-site. To appreciate the immensity of this project, you would need to know that resistance is baked into the nation's geographical crust. 
PNG is impossibly mountainous. Its topography does not invite exploration, let alone subjugation. Its tropical surface is serrated like a blade's edge, having not yet been whittled-down to a gentle undulation by the equation of wind plus time. This makes moving through it difficult, expensive, time-consuming and dangerous. The volunteers slot into the canoe like pellets into the chamber of a BB gun. Depending on the tide, they shuffle around, redistributing their weight so the motor doesn't get stuck in the mud. To move through PNG is to be reminded anew of the limitations that nature can impose on us at her choosing. 
Papua New Guinea is one of the few nations left that is yet to embark on the centuries-long process of regretting whatever decisions it is about to make

Manu's cousin, Collis Pingah, was the first to become a volunteer for Project Sepik. Collis is a naturally gifted orator which he chalks up to a healthy dependency on chewing Betel nut. Going against the concentration gradient, he left Korogu for university only to return home in favour of the rhythms of village life. "The village has more freedom — you are your own boss," he explains. Today, Collis helps to run a sustainable tourism programme. When asked about the prospect of a gold mine on the Sepik, Collis laughs. "There's lots of gold down there," he tells me. "People believe that gold is waste from the spirits, they excrete it. That's the spirit's toilet so why would we need to go and touch it?" 
Manu has a knack for playing the long-game and his unorthodox strategies often feel, to those around him, like deranged hallucinations until they begin to bear fruit. There was the time he quit his well-paid job as a university lecturer in New Zealand to work for a third-party consultancy group, conducting a pre-feasibility study of the mine site. He had no qualms working for the bad guys if it gave him the information he would need to eventually set up Project Sepik. It was during this time that he was almost assassinated, having been mistaken for a traitor. "I later found the guy on Facebook and wrote to him saying hey, I like your anger and your passion, I want you on my team." The man who nearly killed him is now one of the longest-serving volunteers of the project. 
There was also the time he heard about a police officer who was known in the area for rough-handling Malaysian loggers. He contacted the officer and convinced him to go back and finish High School, while personally tutoring him in the process. Once he received his diploma, Manu arranged for him to attend legal literacy workshops in Angoram, ultimately becoming the deputy commander of the district's task force. 
"This is what I do instead of bribing them with money, and I'm doing all these things so that they'll leave my volunteers alone." He recently began offering informal therapy sessions for police officers in his living room, bemoaning the fact that it has quickly become relationship counselling. Manu's laugh changes when it is directed towards himself. He closes his eyes and snickers inwards, like some process of internal combustion made human. 
Arriving at a new village, Manu presents a branch of betel nut to the Haus Tambaran. Known also as a "Spirit House", the Haus Tambaran is the village's central, parliamentary organ. It is where important decisions are made, where spells are cast and where men take naps. A rectangular, hall-like structure, the passageway is flanked on either side by clansmen in various states of repose. 
We get fish from the river; we get sago from the river; we get crocodiles from the river. The river is where we get everything essential to us: our firewood, our food, our education, our health, the river is our main source 
The volunteers speak in turns. They often find themselves instilling a sense of urgency into what would otherwise be a minor spectacle. PNG is one of the few nations left that is yet to embark on the centuries-long process of regretting whatever decisions it is about to make. The volunteers take it in turns to drink. For now, the water is clean. It has the milky quality of something alive yet nascent. Every time a volunteer cups his hands to drink from its mercurial depths or every time a White Heron lands within our field of vision, Manu smiles. "This is why I do what I do. This is what I need to protect," he says. 
Making our way down river, each village presents itself like a ghost. First, you notice the children on the water's edge; a woman poised in her canoe; a cluster of thatched huts; a man stoking his fire and then it's gone – as though the jungle temporarily re-arranged its atoms. Often you'll spot a church, sometimes a school and very rarely a hospital. 
We arrive at a village colloquially referred to as "America". Why? Because it "has all the guns". The chief of the village greets us with a camo-print cowboy hat. As the men prepare to gather in the Haus Tambaran, the women and children park themselves in the middle- distance to eavesdrop. They are not allowed to enter. "Our life is from the Sepik River," one woman tells me. "We get fish from the river; we get sago from the river; we get crocodiles from the river. The river is where we get everything essential to us: our firewood, our food, our education, our health, the river is our main source." She says that when they first heard of the Frieda River project, the grandmothers in the village began to cry. "The fish! What will happen to the fish?" they yelled.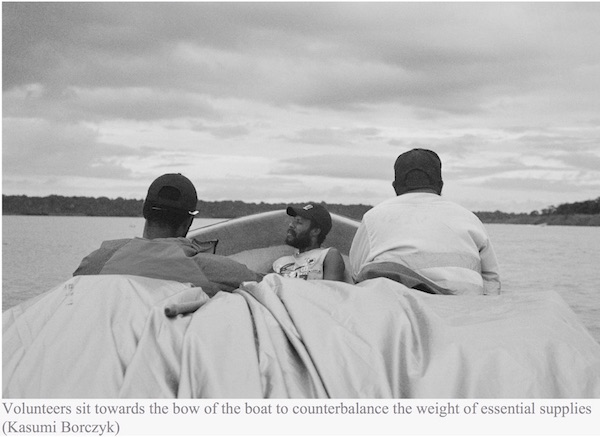 This is the first time the Sepiks are uniting for a common cause. The antagonist has found a name and a face but everybody knows that their fight is far greater than Panaust's mine. Spend enough time in any village and you begin to attune yourself to its sounds. The sound of a canoe, for example, is barely detectable except for a gentle splash as the paddle breaks water. A motor-canoe has the high-pitched artillery fire that is just loud enough to interrupt a midday reverie and the engine of a Malaysian tug-boat has the kind of dull throb of a pain that is chronic. 
Every afternoon towards dusk, there is a collective sense of impotence as the men in Korogu sit and watch the tugboat hauling hundreds of hardwood logs towards the ocean. It feels weirdly like a parade, celebrating the interchangeable ways in which an environment can be damaged. Manu shuts his eyes until it passes. In the beginning they tried to paddle their canoes alongside the tugboats in protest. 
One man imitates an invisible bow and arrow, pointing it straight towards the captain's head but the use of violence is pointless. As darkness approached, I began performing the customary gestures of an unhinged, white traveller. Applying tropical strength Deet to my shoulders, I asked the men whether the mosquitos bother them too. "If you kill one, you make room for more to come," one of them said. We could still make out the tugboat's vibrational hum in the distance. 
There are many ways in which PNG stands out as an anomaly. Its population of about 8.9 million speaks 851 known languages between them. Given its cultural and linguistic diversity, the founding of the Independent State of Papua New Guinea in 1975 represented the spontaneous creation of a shared delusion. A sequence of deferrals in administrative power from Germany to the United Kingdom to Australia, it remains one of the only countries in the world to have survived colonial rule without the dispossession of its land: 97 per cent of the Island is still legally recognised as belonging to its indigenous custodians. 
Eighty-five per cent of PNG's inhabitants continue to live rurally where a barter system and cash economy thrives. As a maximally profitable, minimally abrasive apparatus of capitalism, the state of PNG is a failure. But as one of the few modalities left on the planet offering an alternative vision for how society can be organised, it is one of the few remaining successes. Those in charge have recently adapted themselves to making up for lost time. Upon being sworn in, the prime minister James Marape proclaimed that he wants to make PNG the "richest black, Christian nation in the world". One media outlet calculated that this would require a globally unprecedented growth rate of 30 per cent every year for the next 10 years. 
What we call man's power over nature turns out to be a power exercised by some men over other men, with nature as its instrument 
On the question of wealth, Manu shakes his head, searching for an adequate vocabulary to articulate his anger. He recounts the time a French economist mentioned to him that PNG is one of the poorest nations in the world. "You live in a little box in Paris, eating your shitty, little croissants whereas I have land where I can dive and swim and grow my own food. That kind of wealth cannot be replaced by the money sitting in your bank account." 
But there is a Mephistophelian transaction underway in PNG in which one idea of wealth and freedom is being traded for another. From the perspective of policy-makers, the PNG "problem" is an inability to integrate itself into an aura of upward mobility towards some unknowable end. "Development goals, progress and capacity building" – in the lexicon of humanitarian aid agencies – represent the slow-burning bureaucratisation of cultural genocide.
"We are the experts in sustainable livelihood and leadership," Manu says, deploring the fact that human development is unilaterally geared towards becoming the Global north. "The UN's sustainable development goals for PNG can be flushed down the toilet for all I care because they should come and learn from us."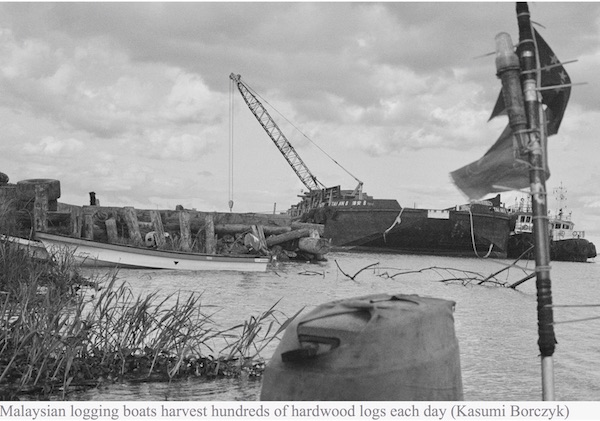 One of fate's most unfortunate conspiracies is that we often unknowingly usher in the mechanisms of our own destruction. For Manu and his volunteers, garnering support against mining is the easy part. They are yet to encounter a village chief that supports the mine but truth-telling in PNG is a process by which a feeling can also be expressed as a fact. 
Anecdotal evidence can perform the function of capturing a mood rather than representing a truth. It can take on the amorphous form of something half-way through evaporation, even as it is being spoken. Kopar is a small village that sits at the estuary of the Sepik river. A briney mix of fresh and saltwater make it feel as though you are experiencing the collision of two worlds. Women travel by motorboat to Madang, where they can purchase soft drinks, Coffee Mate sachets, orange juice powder, plastic-wrapped candy, chicken flavoured crackers and cigarettes in bulk to sell at the local market. 
Travelling downstream, we witness in slow-motion the process by which an indigenous community becomes subject to the gravitational pull of commerce as they realise that Coca-Cola has greater social capital than fish and sago. 
Jerry is one of Kopar's chief elders. He wears a leopard-print OBEY snapback, which is one of those cosmically aligned coincidences you notice often on the Sepik where your "Youth Leadership Conference 2004" T-shirt has found its way to its rightful owner via the Salvation Army. When asked about the future of his village, he mentions to me that he will be meeting with Asian developers in town next week to discuss sand dredging and the development of a port on the doorstep of his village. This would conceivably open up the entire Sepik to increased access for resource extraction. 
Immediately after, Manu catches word that one of the chiefs in his own village has invited developers to build a Jetty in Korogu. We sit on the sand and watch a Malaysian tugboat drive by. The volunteers call Jerry a "Kai-kai man" which translates literally to "eat-man" and roughly to somebody that has been infected with that insatiable hunger for wealth. Becoming an economic subject is a passive action. Sit around for long enough and the world will conspire to convince you of the benefits of upgrading whatever it is that you already own. To resist, on the other hand, is to always be saying 'No, thank-you, I'm fine.' Spend two weeks with Project Sepik, and you begin to realise how tiring resistance can feel.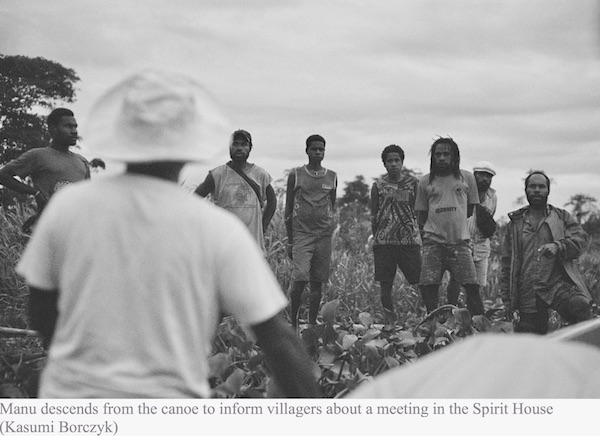 "When the missionaries came, we had the land and they had the bibles. Now, they have the land and we have the bibles," Zephania, a volunteer, says, quoting Desmond Tutu. One of the last villages we visited was a kind of concrete aberration. A white church, built by German missionaries, sits at the head of the village where the Haus Tambaran once stood. Manu conducts the meeting underneath what remains of a bible printing factory. They tell him that they are thinking of rebuilding their Haus Tambaran so that tourists will come and pay money to take photos. Manu is enraged. "We worship a foreign God. We worship Coca- Cola. We worship boomboxes. We worship two-minute noodles," he whispers to me, despairing. 
When they signed the declaration, one villager yelled out: "You are all a bunch of Kai-kai men. You sign the declaration and you say you don't want the mine, and you say you want to protect the river but as soon as they leave and a mining company comes and offers you five Kina, you're all going to take it," and the chiefs fell silent. 
The team honoured the journey's end with South Pacific Lager and fresh barramundi. Manu asked each volunteer how they were feeling and was met with the same answer from each of them: that until the mine can be stopped, there is nothing to substantially celebrate. With indigenous activism, Manu says, there is never a point at which your work is done. You are fighting against many different forces of infinitely greater strength, from all directions, at all times. The small victories are enough to inspire perseverance but they are often dwarfed by news of another tract of land that has been alienated from its community, or another language with no surviving speakers or another proposal for extracting natural resources. The sensation is that of having an open wound and trying to stem the flow of blood with a Kleenex.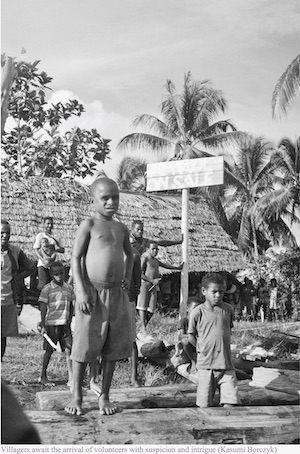 The underlying problem, according to Manu, is an epistemological one. How do we consent to a future that cannot be disclosed to us? How can a decision be made whose consequences may not be felt within our lifetime? Large-scale resource extraction relies on the temporal dispersion of its environmental and cultural consequences, what Rob Nixon calls a "slow violence", or one in which the violence is "decoupled from its original causes by the workings of time". 
The gradual erosion of riverbeds, the incremental loss of biodiversity, and the barely perceptible homogenisation of cultural values have none of the pithy, explosive immediacy of an earthquake or armed conflict but all – if not more – of its aggregate losses. 
"We need to start calling them by what they are," Manu says. "They are environmental terrorists." I am reminded in that moment of CS Lewis's words that "what we call man's power over nature turns out to be a power exercised by some men over other men with nature as its instrument." 
Worldwide, 78 per cent of gold is turned into jewellery, followed by electronics, official coins and medical equipment — almost none of which is consumed by the people of the Sepik. I felt forced to consider the real cost of a wedding band or a smartphone. I am the environmental terrorist and mining is my instrument, I confess to Manu, who smiles in that sympathetic way, when a sad reality is mutually recognised. 
Manu shows me the spot where he will build his house. It is far enough away that he can avoid inquisitive neighbours, but close enough that his son can walk through sago palm and mangrove trees to reach the primary school. "Maybe I am only arresting the face of change," he pauses to reflect, when I ask him about the future of his people. He hopes to rebuild the school in Korogu, where he will restructure the curriculum to include crocodile hunting, Bilum weaving, and the history and folklore of the village. 
He hopes also to extol the virtues of sago and the maintenance of a functioning barter system. "I always thought that the ideas of the west have conflicted with our culture. In Melanesian culture it's circular, everything's connected." Returning to Korogu, he discovers that the concrete Jetty will not be built and tells me that his niece in Port Moresby has officially changed her name from English to her native language. Two small victories won but Manu is not celebrating – not now, not yet.