Submitted by

ACTNOW

on Tue, 03/12/2019 - 10:18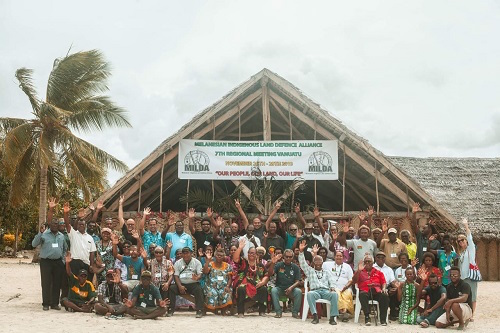 Source: Joey Tau - PANG
A celebration of Melanesian people and our land took place last week in Takara village, Vanuatu to commemorate a decade of resistance and protection of Melanesian values and ways.
The Melanesian Indigenous Land Defence Alliance (MILDA) was formed in 2009 by a collective of individuals who shared a vision and commitment to working together to protect customary land systems and Melanesian values.
Founding member and Vanuatu's Foreign Affairs Minister, Ralph Regenvanu said the alliance was purposely formed in response to the increasing threats to customary land systems posed by land reform agendas of international financial institutions and aid agencies such as the World Bank, Asian Development, European Union, AusAID and others.
Regenvanu said the formation of MILDA came at a time when there was growing concerns in Melanesia around the agenda of land reforms of international financial institutions and aid agencies were facilitated by governments and technocrats within Melanesia.
"These international institutions have become influential to our governments in facilitating reforms and access to resources."

"We wanted to be a joint coalition responding to the growing concerns in Melanesia in relation to land. It has built on from strength to strength over the years and whether you are from Papua New Guinea, Vanuatu, Solomon Islands, Fiji, West Papua or Kanaky, it is an alliance that will continue to uphold the values of Melanesia."
He stressed the importance of such an alliance and its relevance today, adding the purpose of MILDA remains and hopes for another decade of firm regional solidarity.
Rosa Koian from Papua New Guinea shared similar sentiments, adding that MILDA has been able to highlight and give voice to issues affecting Melanesians especially on relating to extractive industries and its impacts on our communities.
Koian said the alliance remains vital for our region as it was purposely established to protect our indigenous people, land and our way of life as Melanesians.
The alliance is aware of external and internal threats to our ancestral heritage and will continue to defend our customary practices over our land and ocean. The gathering was attended by representatives from Papua New Guinea, Vanuatu, West Papua, Kanaky, Bougainville, Fiji and the Solomon Islands.