Submitted by

ACTNOW

on Fri, 08/10/2021 - 15:41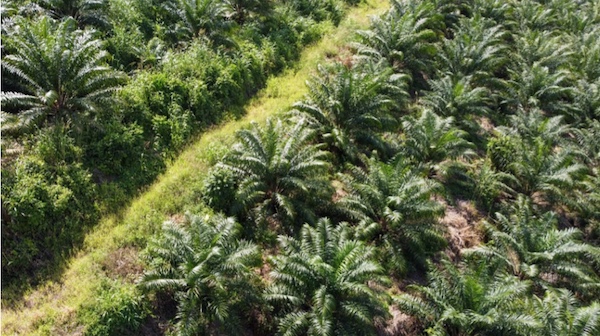 Global Witness
A two-year investigation shines a light on palm oil in Papua New Guinea, the notorious industry's newest frontier. It reveals a litany of human rights abuses and the wide-scale destruction of tens of thousands of hectares of climate-critical rainforest, linked to major financial institutions including BlackRock, the world's largest asset manager.
This investigation uncovers shocking human rights abuses including admissions of the use of child labour and brutal beatings of local people. It examines three of the country's newest palm oil operations: the East New Britain Resources Group (ENB), the Rimbunan Hijau Group (RH), and Bewani Oil Palm Plantations Ltd. Going undercover, Global Witness investigators were able to gain unfiltered access to top ENB executives. On tape, the executives boast about bribing a minister, apparently evading custom duties on imports into India, and using child labour. A business partner of the group told the undercover team he had paid police to assault villagers he suspected of opposing the palm oil plantations.
By using satellite imagery, tracking cargo shipments, analyzing company records, and interviewing people directly affected by these plantations, Global Witness uncovered that these companies have all recently destroyed climate-critical rainforests. Two of them have received direct and indirect financing from international institutions including Maybank, OCBC Bank, BlackRock, the California Public Employees' Retirement System, the Norwegian Pension Fund and Robeco Institutional Asset Management B.V.
For the first time, the investigation also reveals that the tainted palm oil and its byproducts has been sold on to household brands including Kellogg's, Nestlé, Colgate, Danone, Hershey, and the parent companies of both Imperial Leather and Strepsils.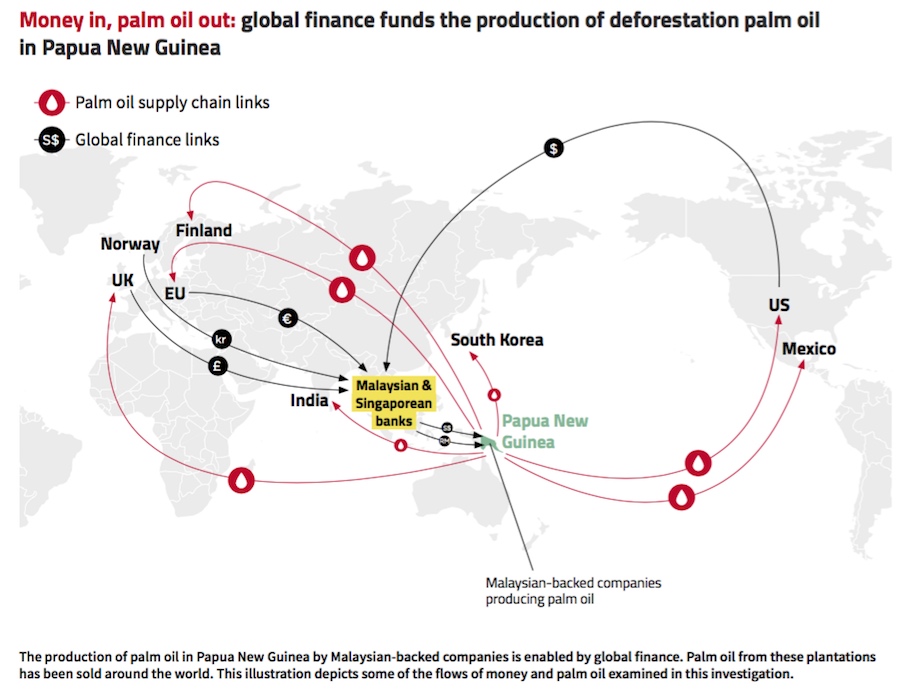 The production of this tainted palm oil is made possible by loans from Malaysia's infamous bankroller of rainforest destruction, Maybank, and by indirect financing from international financiers including the world's largest asset manager, BlackRock.
PNG is home to the world's third-largest remaining rainforest, which supports rural communities, is among the most biodiverse in the world, and serves as a critical carbon sink.  Yet it is under immediate and growing threat from the palm oil industry. By 2030, the PNG government is aiming for a tenfold expansion in oil palm cultivation to 1.5m hectares (ha), compared to about 150,000 ha in 2016.
Lela Stanley, Senior Investigator at Global Witness, said:
''Papua New Guinean communities have managed and protected their forests sustainably for countless generations. This investigation shows they are being sold out by their own government and global financial institutions in favour of a small number of highly destructive companies, with devastating human rights and environmental consequences.
This investigation is yet further confirmation that the global financial system is broken – the business-as-usual, voluntary approach of past years has led us into climate crisis. Firms like BlackRock talk a big game on their commitment tackling climate change and protecting human rights, yet our revelations show its money is ultimately financing the destruction of climate-critical forests, the use of child labour, and other human rights abuses.
It is increasingly urgent that governments legislate to prevent supply chains and global financiers bankrolling deforestation and human rights abuses.''
Key findings
Palm oil companies told undercover Global Witness investigators that they bribed officials including a government minister, paid police to brutalize villagers, used child labour and participated in an apparent tax evasion scheme.
Malaysian-backed firms clear-felled tens of thousands of hectares of Papua New Guinean rainforest, which supports rural communities and is among the most biodiverse in the world.
Tainted palm oil and its byproducts from Papua New Guinea plantations sold on to household name brands including Kellogg's, Nestlé, Colgate, Danone, Hershey's and PZ Cussons and Reckitt Benckiser - the manufacturers of Imperial Leather and Strepsils respectively.
One palm oil firm, Rimbunan Hijau, negligently ignored repeated and avoidable worker deaths and injuries on palm oil plantations, with at least 11 workers and the child of one worker losing their lives over an eight-year period, a far higher rate than on comparable plantations.
Global financiers including BlackRock, the world's largest asset manager, the California Public Employees' Retirement System, and Robeco Institutional Asset Management B.V. are exposed to these human rights and environmental abuses. Some of these financiers have developed policies or principles that should limit their investing in deforestation. CalPERS, for example, says that companies should disclose and manage environmental risks, including deforestation.
Report recommendations
Global Witness is calling on the government of Papua New Guinea to immediately investigate the companies named in this report, and to review all injuries and deaths on oil palm plantations. The government must also provide support for injured workers and their next of kin to find suitable replacement employment. All palm oil operations in Papua New Guinea should meet industry best practices with regards to ecosystem protection and avoided deforestation; community and human rights, including worker rights; and ethical and transparent business dealings.
The governments of the UK, US, European Union, and other countries home to companies importing palm oil or financing palm oil-linked banks or companies must urgently introduce and implement legislation requiring businesses, including the finance and investment sector, to identify, prevent, mitigate and report on deforestation and forest-related human rights risks and impacts in their supply chains and financing.
Businesses, including banks and investors named in our report need to urgently work with affected communities in PNG to provide redress and remedy for their role in contributing to and legitimising the abuses we outlined.