Submitted by

ACTNOW

on Mon, 02/03/2020 - 07:00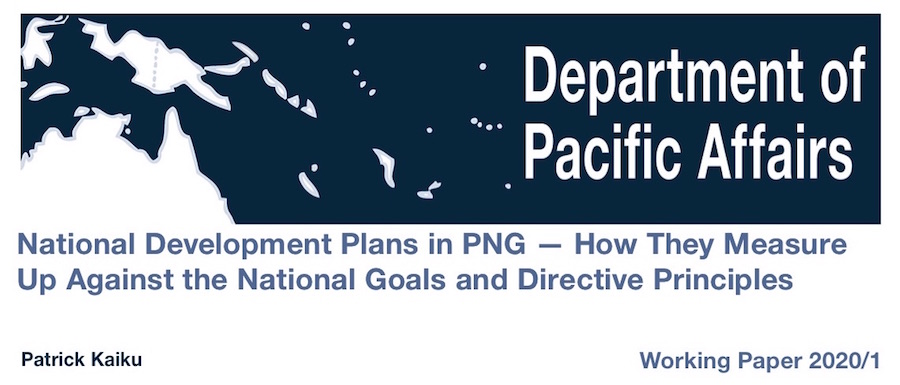 2nd March 2020
Patrick Kaiku has recently published an important paper on our National Development Plans in PNG and how they measure up against the National Goals and Directive Principles.
Below is the Executive Summary and a link to download the full Paper.
In the absence of any coherent framework guiding the implementation of the National Goals and Directive Principles (NGDPs) in the preamble of Papua New Guinea's (PNG) constitution, their interpretation is left to PNG's public officials. 
These officials will not always agree on the intentions of the NGDPs. When left open to various interpretations, the NGDPs can be used to promote development strategies substantively antithetical to those very national goals. 
This case study of PNG Vision 2050 and the Papua New Guinea Development Strategic Plan 2010–2030 (PNGDSP) will illustrate this point. 
These plans promote rapid economic growth as the means to achieve development in PNG. 
Their versions of development are staked on a range of policy options: trade liberalisation, land reforms and the redistribution of petroleum-related wealth channelled through economic corridors.
This paper will illuminate the disconnect between PNG's public policy thinking and the NGDPs. 
When the National Strategy for Responsible Sustainable Development (StaRS) was developed in 2013, it was critical of some core assumptions of Vision 2050 and the PNGDSP. 
StaRS seems to suggest that there is no consensus on what the NGDPs mean to policymakers in PNG today, hence the competing narratives of these three development blueprints. 
This paper revisits the development models promoted in recent national plans, the influences that framed their ambitious visions and their compatibility with the earlier NGDPs. 
Learning from the failed attempts at implementing the NGDPs, this paper suggests making them justiciable and institutionalised — as suggested by the Constitutional Planning Committee (CPC) —for the purpose of vetting development policies and programs.