Submitted by

ACTNOW

on Mon, 16/11/2015 - 00:00
Melanesians have great respect for our land. it is the core of our livelihood. Selling of land in our communities has caused rural-urban drift, many people have become displaced and cannot maintain a subsistant living becuase there is no land to cultivate. A great number of people have lost their land to SABL schemes and land grabbing, thus have come town to earn a monetary livelihood. Question is, who is (really) causing this problem?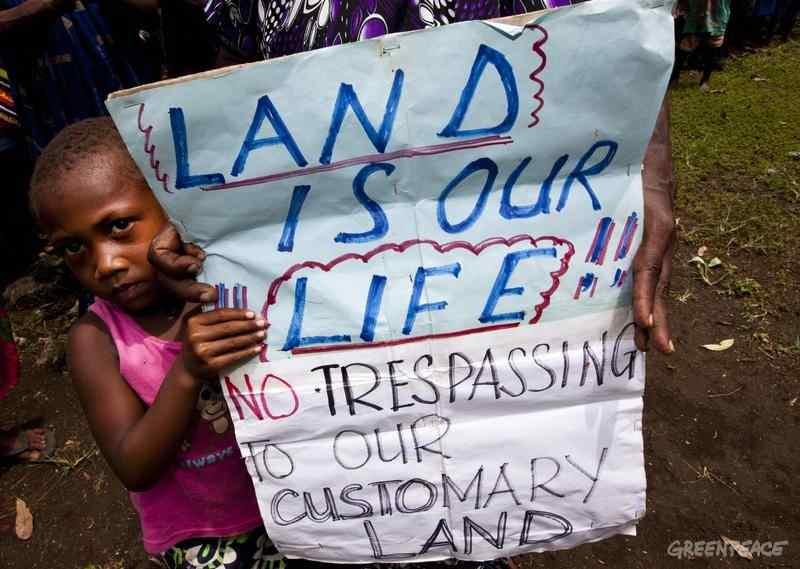 Photocredit: Greenpeace. LAND IS LIFE
Source: Post Courier
LAND-grabbing is now a serious problem that threatens national security, according to Northern (Oro) Governor Gary Juffa said.
Governor Juffa said this in response to the protests and riots that followed in the country's industrial hub of Lae, Morobe Province, last week.
Mr Juffa said the riots in Lae stem from failures to address land management and regulate the informal sector to contain urban drift.
He said the Lae riots point to a deep-rooted problem that governments have failed to address, where land-grabbing is widespread with foreign entities conspiring with corrupt public servants and middle men to obtain State and customary land. "This is due to two situations, opportunity and necessity."
Lack of basic services such as education, health, commerce plus law and order are driving people out of their districts and electorates to flood into urban areas in search of these services and opportunities.
"While the Government preaches about development and points to roads, bridges and major infrastructures built at inflated prices in selective centres like Port Moresby, it has failed miserably to address the unequal distribution of wealth in the country and especially to rural areas, districts and stations," he said.
Mr Juffa said the Government has allowed the informal sector to grow unregulated and poorly managed to a point where it is merely a platform for the re-sale of junk products from Asia as a means of keeping the people busy, but this can only last so long. "The informal sector in its unregulated form is a ticking time bomb as it hastens urban drift, encourages land grabbing and stimulates social disorder," he said.