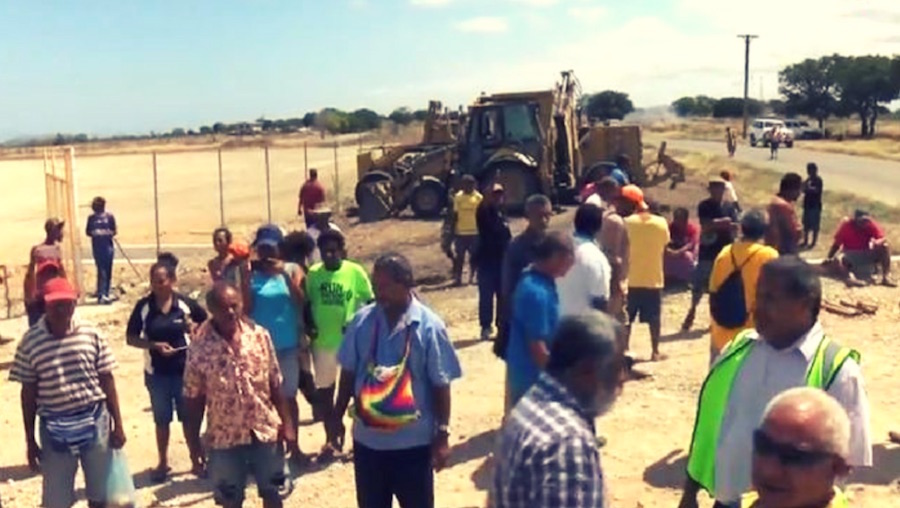 Fraudulent SABLs that the government has failed to cancel despite the recommendations of the Commission of Inquiry are still causing conflict and injustice - see stories below.
This is what the Commission of Inquiry said about the SABL over Portions 2465C and 2466C.  
"There was misrepresentation and fraud involved in the whole process" [Report p164]

Landowner signatures were forged in "a criminal act" [p150].

"The whole process was riddled with defects and flaws" [p157] and "it was obvious that officers from DLPP [including] Romily Kila-Pat deliberately decided to ignore and by-pass the existing protocols and practices" [p153].

"Those responsible must be held accountable for their unlawful conduct and actions" [p165]
Read more about the CoI findings.
STOP ILLEGAL LAND GRABBING: LOCALS
Source: Grace Auka Salmang, Post Courier
Enough is enough, was the plea made by landowners of Papa and Lealea villages of Caution Bay, Hiri during a peaceful protest on their land.
The locals peacefully fronted up at the Konekaru site yesterday where a construction was taking place and demanded the workmen conducting the earthworks to stop and move out of their customary land.
Chairman of the Papa delegation committee Pastor Joseph Baeau said several calls through peaceful protests have been made and yet controversial acquisition of land portion 2465C, 2466C and 2485C portions in Konekaru area still continuing.
"There is no respect for the law. The subject land portion 2465C and this title where Konekaru Holdings Limited (KHL) and CJ Ventures Limited is holding is illegal," according to a commission of inquiry findings.
Mr Baeau and his committee are calling on Lands and Physical Planning Minister Justin Tkatchenko and his customary land advisory committee to fast track the COI recommendations, stop further illegal land grabbing and remove aliens from Papa customary land.
He said KHL acquired two land portions, which are 2465C and 2466C in 2012, through a government sanctioned program – special agriculture business lease (SABL) and Veadi Holdings Limited acquired portion 2485C.
"During the inquiry on the SABL saga, some matters that ended up in the courts were dismissed and others are pending.
"The COI in its report recommended 75 identified land portions including portions acquired by KHL and VHL to be revoked, cancelled and reviewed, hence the issues surrounding KHL and VHL were dubious and amount to fraud," Mr Baeau said.
He told villagers to unite and stand firm to disallow any development happening within the land portions until the issues were addressed and resolved.
"Individuals and groups from Papa village pursued their claim for ownership against KHL and VHL but were disqualified by the courts from want of prosecution due to plaintiff negligence.
"That has obviously given KHL and VHL the leverage to pursue their hidden agendas in developing the land."
PAPA LOs DEMAND STOP-WORK
Source: Salome Vincent, Loop PNG
A build of frustration and anger among landowners at Papa village in Central Province resulted in a recent demonstration in front of a work site along the LNG corridor.
The villagers claimed that the work site, which is on a piece of disputed land, was still in court and developers should not be there carrying out any activities until the land issue is cleared.
Joseph Baeau, Chairman of the Papa Delegation Committee dealing with controversial land issues, and his committee led a group of people to the work site to demand a stop work from contractor Curtain Brothers.
He said this piece of land is one of those leased under the Special Agriculture Business Lease arrangement and they have been pursuing the matter for quite some time since the SABL Commission of Inquiry deemed the process illegal.
The land in subject is portion 2465C whose title, Baeau says, is being held by a landowner company and private company.
He said since the lease was condemned through the outcome of the SABL Commission of Inquiry, it was taken to court and an outcome has yet to be determined.
"On 27th of August this month, the matter will go before the Supreme Court for Summary Determination."
He said the demonstration was a result of built up anger and frustration that the parties concerned would carry on with developing the land area knowing full well its legal status.
"We made numerous attempts to warn the parties to stop development in this deal, but they haven't. That's why it's come to this."
The locals have called on the Minister for Lands and Lands Advisory Committee to fast track the determination of the matter, stop further illegal land grabbing, and for the opposing contractors and lease holders to move out.