Submitted by

Cathy Tukne

on Thu, 02/06/2022 - 16:48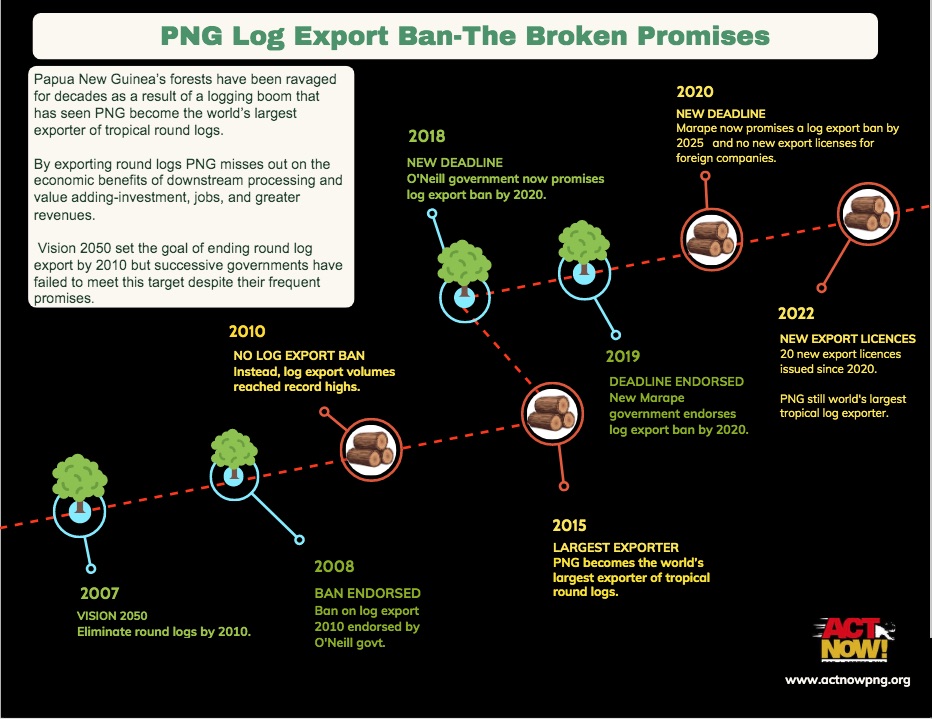 FIGURE 1: Round Log Export Timeline
The aspiration to ban round log exports is now at least 15 years old, but consecutive governments have failed to meet their own deadlines. After putting aside the agenda for over a decade they now say a ban will be imposed in 2025 and the country will move finally to fully downstream processing.
After this year's general election, PNG will have just 2 years to implement the ban. Will the new government be the first to successfully impose this policy? 
In 2007, PNG Vision 2050 stated that round log exports would be banned by 2010.  The Somare government was then replaced by the O'Neil government in 2008, but the new government reiterated a commitment to the 2010 deadline.
Nonetheless, log exports continued to grow. By 2015 PNG was the world's largest exporter of round tropical logs and in 2018, PNG reached its peak log export volume at 4.04 million cubic meters (m3).
That same year, the O'Neil government said it would impose a log export ban in 2020. A 100-day plan was submitted by PNG Forest Authority (PNGFA) to the government on how to implement the ban.
 In 2019, the Marape government took over. Prime Minister Marape initially said the ban would still be imposed in 2020, however, the Forest Minister said there was no legal framework in place to effect the ban.
In 2020, the Marape government announced a further delay, saying the log export ban will be in effect by 2025.  That same year, the government announced a stop to the issuing of new export licenses to foreign companies as part of the move to 100 percent downstream processing.
However, Act Now! says this halt to new export licenses is not borne out by the evidence.
This article looks at the PNG log export data from SGS for 2020 and 2021.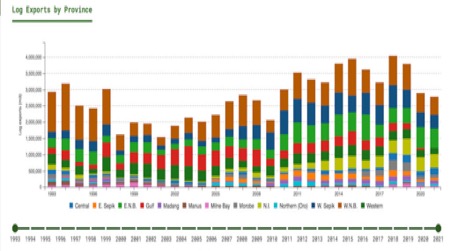 SGS is a Swiss multinational company headquartered in Geneva, Switzerland which provides inspection, verification, testing, and certification services.
A review of the log export data for 2020 and 2021 has two interesting findings that reveal that the PNG Forest Authority is not acting on government policy and that PNG is nowhere near the target of stopping log exports by 2025.  
Data from SGS reveals two indicators that show that rather than rapidly declining,  log exports are progressing as normal:
Commencement of new log export operations
Consistent log export volumes.
Firstly, the government's stance to stop issuing new export licenses to foreign-owned logging companies from 2020 is not seen in the data. Twenty new export logging operations emerged in 2020 and 2021 and eleven of those did their first exports in 2021. 
This contradicts government claims that no new log export licenses have been issued to foreign-owned logging companies since 2020.
Is Prime Minister James Marape aware that the PNGFA is breaching his government's orders?
On the 20th of January 2022, The National Newspaper reported;
"Marape said a report on how the permits had been issued would be tabled before the 2022 national general election.
The report will also include how many permits were given to foreign companies with the focus on downstream processing and how many local companies had round log export permits with a view of migrating towards downstream processing in 2025.
The Prime Minister said the report will be tabled in April."
Why has April 2022 passed with no report tabled?
Secondly, PNG still remains the largest exporter of tropical round logs anywhere on the planet.
This is a title we have now held for seven consecutive years. In 2021 the exported volume was close to 2. 8 million cubic meters.
In 2020, Forest Minister Solan Mirisim said he had made a submission to the National Executive Council to make gradual progress to downstream processing by 30 percent every year till 2025.
What is the progress of this commitment?
How can we move to 100% downstream processing while still retaining the crown of the world's largest log exporter and continuing to give out new log export licenses?