Submitted by

ACTNOW

on Tue, 19/09/2023 - 09:48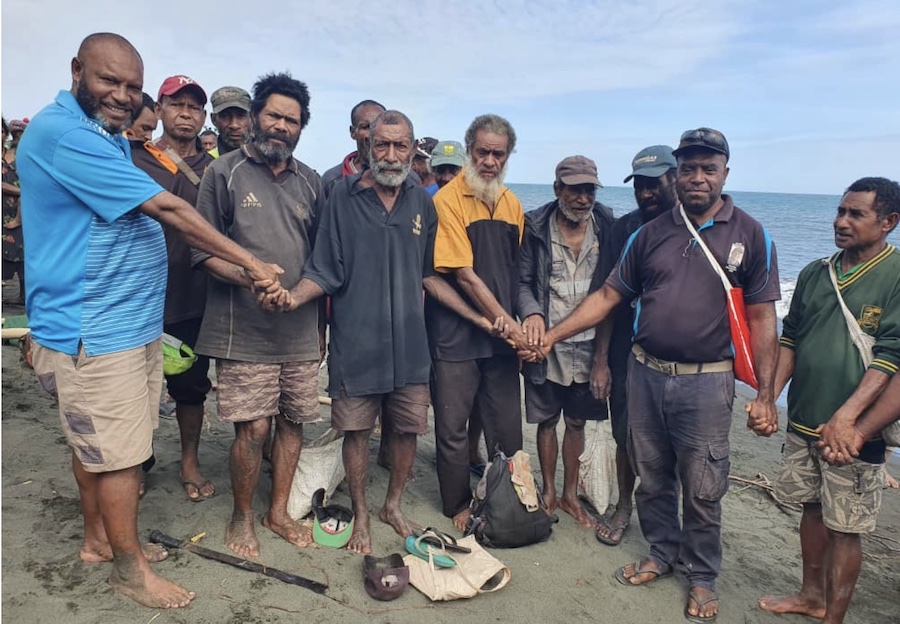 Morobe Timber Consortium and people from Labuta (Image: EMTV)
By Nalau Bingading, Customary Landowner and Forest Scientist
Morobe Timbers Consortium Limited has attracted a lot of media recently with claims it has reached some kind of agreement with Wagangluhu landowners of Labuta LLG in the Morobe Province, to set up a Forest Industrial Park on 2,000 hectares of customary land. 
As a customary landowner from Wagangluhu and a person who has worked with the government, national and international NGOs, and donor agencies on environmental and social issues within the forestry and natural resource sectors, I am appalled by the way this company and its henchmen appear to have capitalized on the ignorance of my fellow villagers to agree to such a dubious development on our customary lands. \
There are numerous reasons to be highly suspicious of the proposed Forest Industrial Park
1.     Morobe's Unproductive Business Ventures
No business arm of the Morobe Provincial Government has ever made any profit for the province. Instead, they have been liabilities, with millions of kina siphoned off year after year with no tangible benefits for the people. The latest being the balsawood project, for which a large delegation was sent by former Governor Ginson Saonu to East New Britain to do a scoping study. Since that trip, nothing tangible has eventuated to date. 
2.     Wagangluhu Land Groups and Customary Land Laws
There are 3 clans in Wagangluhu village – Luhu, Wagang and Lahi (Ahi). These clans do not have any Incorporated Land Groups at the moment as far as I know. 
For these clans to allow Morobe Timbers Consortium to use their lands for a Forest Industrial Park would require them to incorporate and register their land groups and register their customary lands with the Lands Department. These are the requirements as per the Customary Land Group Incorporation Act (2009) and the Customary Land Registration Act (2009). 
If the Wagangluhu clans currently do not have any incorporated land groups or registered customary lands, they cannot lease their lands for the development of a Forest Industrial Park 
3.     Construction of a Wharf for Log Export
I am a forester and forest scientist by profession, and I have travelled the breath and length of this country as a forestry person. I have seen the good and bad of forestry activities in this country during my working days.
However, I have been reliably informed by my people that Morobe Timbers Consortium Limited has advised that they will build a wharf for log export along our coastline. 
But this is rather laughable because I have never seen a permanent wharf built by a logging company in this country for export logs. I have only seen log ponds and temporary loading points built by logging companies. I will not tolerate such blatant lies being fed to my people.
4.     Export of Plywood
Another thing that is dubious about this proposed project is the claim to export plywood and sawn timbers. 
As far as I know there are only two plywood producing companies in PNG, and much of the plywood is for the local market. Since the 1970s plywood exports from PNG have dwindled, and very little plywood is exported from PNG today. 
Therefore, what Morobe Timbers Consortium Limited is insinuating about plywood export is a lie. PNG does not have a large export based plywood market, and the trend is likely to continue. 
To establish a new plywood mill in Wagangluhu village would cost more than K1 billion, so this is an impossibility for Morobe Timbers Consortium Limited and the Morobe Provincial Government. 
Morobe Timbers Consortium Limited can fool other people, but not me and my people. 
5.     Production of Paper
I am a forestry person, and I know how paper is made or what type of tree species in this country is good for pulp and paper production. 
However, it is claimed that Forest Industry Participants in Morobe will buy logs from the proposed industrial park to produce paper. 
But this is funny because paper cannot just be produced from the wood of any timber species or the bark of these trees. In Papua New Guinea, Acacia mangium is the only tree species that has been scientifically proven to have fiber lengths that meet the requirements for paper production. Other tree species may be available, but they have not yet been scientifically shown to be good for pulp and paper production.
I have collaborated with JANT Timbers Limited in Madang while working as a forest scientist with PNG Forest Research Institute for many years on wood chips production for pulp and paper. Jant Timbers Limited annually exports 100,000m3 wood chips to its mother company in Japan, OJI Paper Limited, to produce pulp and paper for the Asian market. It is cheaper to export wood chips to Japan than to produce paper in Madang.
Therefore, I am not sure where Morobe Timbers Consortium Limited has got the idea that any tree species in PNG can be used for pulp and paper production. 
Moreover, the establishment of a paper mill in Lae City is an impossibility for Morobe Timbers Consortium Limited or the Morobe Provincial Government because it will cost some K2 billion or more to build one. If construction of a paper mill in PNG was a cheap option, Jant Timbers Limited would have built a paper mill in Madang Province many years ago. 
6.     Downstream Processing and Log Export
The National Government is now proposing to scale down on log exports and venture into downstream processing, so where is this idea of increasing log exports coming from? 
Moreover, where would the log export volumes come from in the Labuta LLG when the whole area had been logged out in the 1960s, 1970s and the 1980s? I was a little boy running around in Wagangluhu village when logging took place on our customary lands donkey years ago.  
In order to sustain a Forest Industrial Park for Morobe Province, an established forest plantation should be available or a new FMA will have to be declared to supply sufficient volumes of timber for log export and downstream processing. 
Primary forests in PNG can produce on average 30 – 40m3 of timber per hectare, but I would assume that the logged-over forests in the Labuta LLG area would yield 15 - 20 cubic meters of timber per hectare.
Declarations of Timber Authorities (TA) in Labuta LLG would not produce any sufficient amounts of timber for log export and downstream processing. These logged-over TAs with 15 – 20m3 of timber per hectare of land are unproductive forests that would only be good for small-scale portable mill operations and not large scale logging operations as envisaged by Morobe Timbers Consortium Limited. 
Therefore, this proposed project would be an unprofitable business venture my people as the royalty payments from log export and downstream processing would be about K450 – K600 per hectare of land – sometimes it may be less if corruption creeps in. And equating the royalty earned per hectare of land to the huge environmental damage that would be incurred, the proposed log export and downstream processing business venture would be socially, economically and environmentally unsustainable. 
7.     Flood Plains and Watershed Areas in Labuta LLG
The areas starting from Bukawa-Bikples to Situm in the Labuta LLG are geologically considered as alluvial plains. This means that these plains have been built up by the actions of rivers flooding and laying down boulders, stones, sand, mud, silt and other debris over hundreds or thousands of years. The Buhem, Bulu, Busoo, Buyem, Bukaa, Bulep and Bupu rivers have been responsible for the built-up of these alluvial plains and the lowland rainforests that span these areas are occasionally subjected to seasonal floods.
Therefore, the areas between Bukawa-Bikples and Situm are not suitable for large-scale logging operations. Large scale logging operations in these areas would only exacerbate flooding and soil erosion along the banks of these rivers. 
Watershed areas of the Buhem, Bulu, Busoo, Buyem, Bukaa, Bulep and Bupu rivers in the Labuta LLG, starting from Bukawa-Bikples to Situm, are quite steep and not suitable for any logging activities. I any logging activities is to take place in these watershed areas, it may increase the chances for massive flooding and soil erosion downstream, threating the lives and livelihoods of the Bukawa people living downstream. 
If Morobe Timbers Consortium is intending to get the Provincial Forest Management Committee to declare any TAs in the said watershed areas, this would only lead to more flooding and environmental disasters downstream, exacerbated by the impacts of climate change.