Submitted by

Cathy Tukne

on Mon, 05/12/2022 - 12:22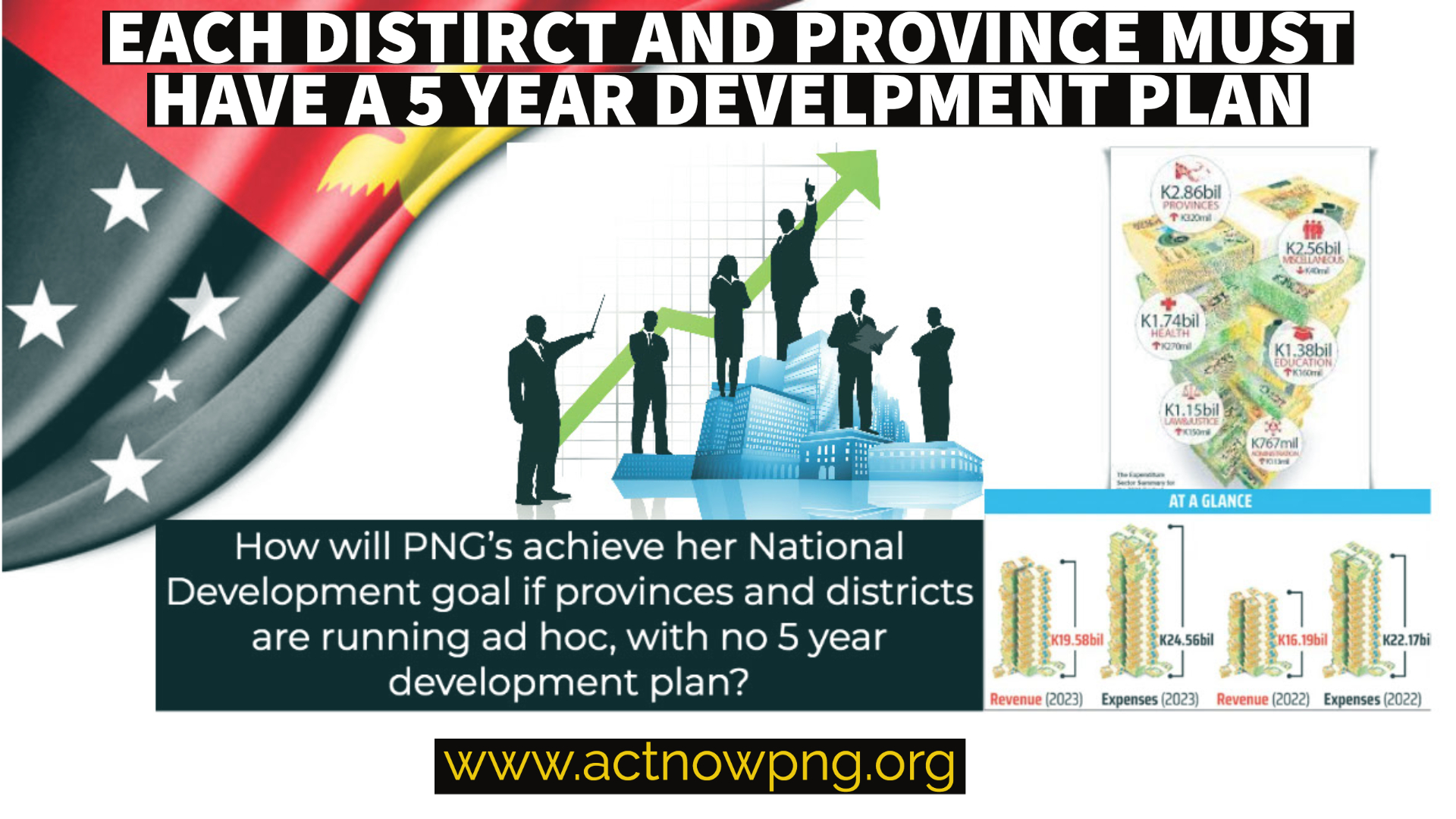 Exactly 25 days to 2023 and 96 Districts and 22 Provinces are yet to put together their five-year development plans. An eye-popping K24.56 Billion is budgeted to be spent in fiscal year 2023 and that amount will continue to increase for the next five years.
The question though is, how will the people benefit from those funds and how will the spending translate at province and district levels?
Prime Minister Marape said the 2023 budget is the People's Budget.
"Provinces and districts have the highest slice of the Budget 2023 in governments power to decentralized budget powers" said the Minister for Planning and Finance.
Provinces and district are expected to provide development plans to achieve our district, province and national goals.
Each districts gets K10 million each year and the provinces get K5 million per district under the service improvement program. On top of these funds, the government is introducing a new District Infrastructure program. This program will receive K90 million for the 96 districts and K220 million for all 19 provinces next year.
Why do we need development plans?
Development plans are intended to promote and guide our districts and provinces on a path of sustainable economic growth, achieving economic prosperity and a high quality of life for all. They should be in line to achieve our national goals and regional commitments.
The idea of development planning has been in PNG for more than 50 years.
The Colonial Administration of the Territory of Papua and New Guinea established a Central Planning Office in 1963, with a Project Planning Team, which was charged with the task of identifying development projects that were later known as Public Investment Programs (PIPs).
The first development plan was named Project Planning, 1963-1967, which was subsequently followed by:
Economic Development Planning, 1967-1972;
Eight Point Improvement Plan, 1973-1975;
National Development Strategy, 1976-1985, which for the first time was accompanied by a resources framework known as the 1976-1985 National Public Expenditure Plan;
National Development Plan, 1986-1990, with a Medium Term Development Program;
Development Plan, 1989-1997, with the 1989-1997 Public Investment Program;
Medium-Term Development Strategy (MTDS), 1997-2002, which incorporated the Medium-Term Resources Framework (MTRF);
MTDS, 2003-2007, with MTRF, which was abandoned; and
MTDS, 2005-2010, with 2005-2007 MTRF, which was meant to be a three-year rolling plan.
Almost 60 years have passed since the first development plan in 1963 yet there is still much confusion and uncertainties, not least because of the frequent name changes and changes in the planning authorities.
Formal legal/constitutional requirements to conduct development planning at the provincial level commenced in 1995, when the Organic Law on Provincial Governments and Local Level Governments (OLPG&LLG) was enacted. The OLPG&LLG imposed a mandate on each province and district to formulate and implement a rolling five-year development plan and rolling annual budget.
It is stipulated under Section 33A (3)(d) of the Organic Law on Provincial and Local Level Government as a compulsory and mandatory requirement for all districts in Papua New Guinea to have a 5-year development plan.
This constitutional requirement has not been satisfactorily complied with for more than 25 years now. Basically, we have a National Development goal but provinces and districts are running ad hoc, so how can we expect to achieve our goals?
Provinces and districts through their respective Joint Planning and Budget Priorities Committees (JPP&BPC or JDP&BPC) are supposed to submit a list of the prioritized provincial and district projects in a manner consistent with the respective five-year development plans.
All elected members are expected to have a clear plan on how to disseminate public funds.
It is about time, people knew how their money will be spent. The public should be able to hold to account those in positions of responsibility and be able to see if services are being delivered as per the plans.