Source: PNG Mine Watch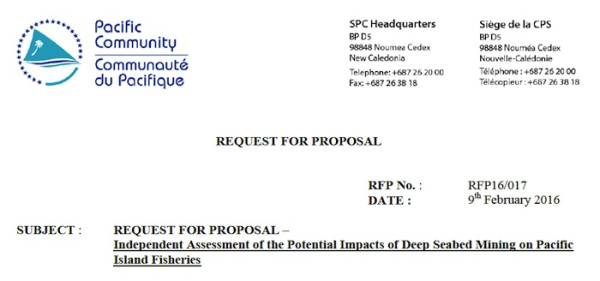 PNG is playing a dangerous game with people's livelihoods, environment and culture by embarking on experimental seabed mining without understanding the potential impacts on the regions fish and fisheries, according to a South Pacific Community research proposal.
The major research project will look at the potential impacts of seabed mining on fisheries across all the 15 island states of Polynesia, Melanesia (including PNG) and Micronesia.
"There are still many uncertainties about the environmental, socioeconomic and technical risks and potential impacts that DSM might have on Pacific island environments, economies, societies and cultures", says the SPC.
In particular there are, "significant concerns about the potential impacts of DSM [Deep Sea Mining] on fisheries and fishery resources".
This is particularly worrying, says the SPC, "given the extremely high importance of fisheries, including commercial, artisinal and subsistence fisheries, to Pacific Island economies, societies and cultural identities".
But while the Pacific Community will be investigating the impact experimental seabed mining could have on vital fish stocks, Papua New Guinea has already licensed the first seabed mine and poured K110 million of tax payers money into building the mining machines.
How could a responsible government sanction an experimental new form of mining when its potential impacts on a vital resource are still unknown?
Clearly PNG is playing a dangerous game allowing mining to go ahead while all these risks are unquantified.
The SPC also states:
"Pacific Island countries have limited governance and institutional capacity to assess, regulate and manage proposals for DSM".
This is very clearly the case in PNG, given its history of failure in managing its terrestrial mines and the environmental catastrophes such as Ok Tedi, Panguna, Porgera, Tolukuma and Sinivit.
If PNG can't control the impacts of mining on the land, and clearly has very limited governance and institutional capacity, how can it possibly hope to manage the unknown impacts of mining 1500 metres below the surface of the sea?
The SPC study will include all the potential environmental, ecological, operational, economic, social and cultural impacts of exploration and mining on fisheries and fisheries resources.
The study lists the emissions and discharges from mining and explorations activities that could affect fish and fish stocks as 'underwater noise, solid liquid and gaseous wastes, pollution, effluent, light emissions and turbidity and sedimentation'.
The study is expected to take six months and should be completed later this year.