Submitted by

Cathy Tukne

on Tue, 08/12/2020 - 16:32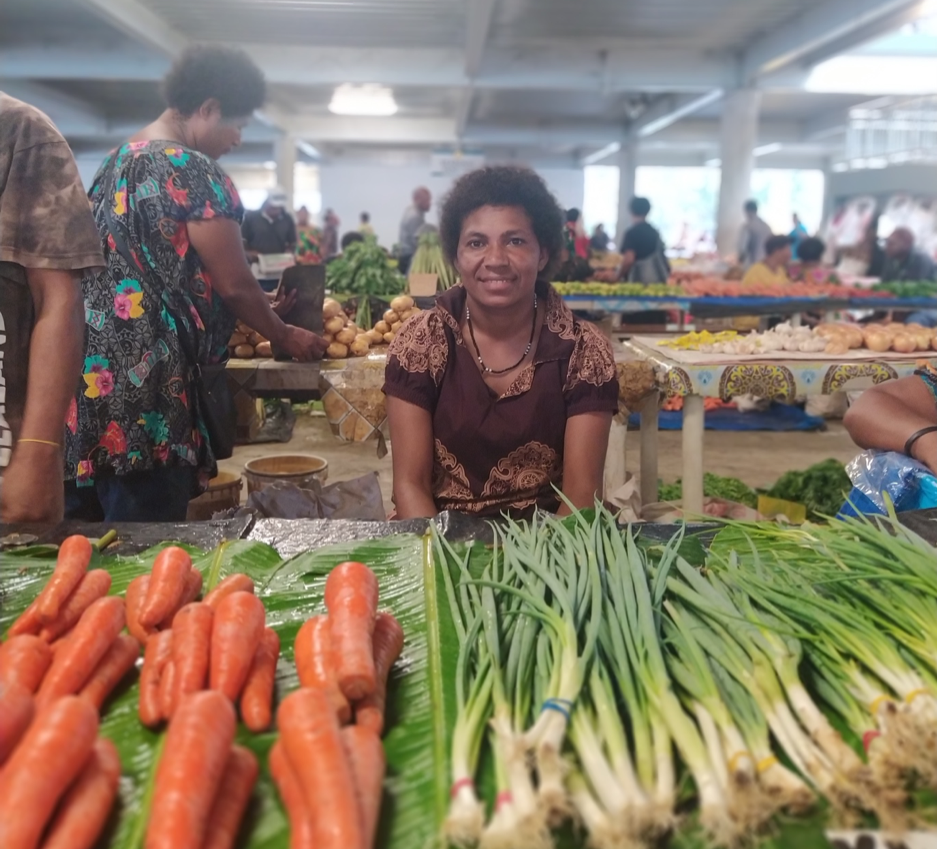 While the government boasts of K100 million placed with Bank of South Pacific to support small and medium scale enterprises (SME) this money is inaccessible to those working in the informal sector who need it the most.
As Naomi's story illustrates, a lack of financial literacy, appropriate training, and financial inclusion means many entrepreneurs who work hard every day to make just a few Kinas remain completely excluded from the support they need.
Naomi's Story
The translation of a normal working day into monetary value in the formal economy can be seamless with a fixed fortnightly or monthly wage and a fixed time card, allowing easy family budgeting.
It is very different in the informal economy. Workers in the informal economy have to constantly withstand the tests of fluctuating demand and competition, using their business knowledge and innovation to try and meet short time profit targets while always having an extra three to four back up plans that can simultaneously snap-in and cater for any risks or losses involved. Beyond these daily demands though, there is a bigger dream that sustains every informal vendor. A dream to be financially included in the monetary economy, able to venture into a small or medium enterprise (SME) and achieve a better livelihood and financial stability. 
Here is the case study of 27-year-old Naomi Tei from Dei District in Western Highlands Province. Naomi has been a common face at Gordon's Market for almost 23 months and is an avid food product reseller. She migrated from the Highlands to Port Moresby to pursue her dream of upgrading her Grade 12 marks and finding a placement in a tertiary institution.
She started selling Kaukau with support from her mother early last year. A full-time vendor, six days a week during the day and a student by night. Her daily profits was an average of K17 and in a week, she would have saved K102. 
Table 1: Naomi's expenditure and profit from kaukau sales
| | | |
| --- | --- | --- |
| Items | Expenditure | Income |
| Kaukau bag x 2 | K200 | K255 |
| PMV Fares (9mile Bushwara to Gordans) | K4 |   |
| Bag carrier | K6 |   |
| Flex cards | K3 |   |
| Lunch | K5 |   |
| Breakfast | K10 |   |
| Miscellaneous costs (rents etc)) | K10 |   |
| Total | K238 | K255 |
| Total Profit |   | K17 (x 6 days = K102 in a week) |
K50 from her profit would go on personal expenses and sorting out household needs, leaving K52 for the fees for flexible open and distance education (FODE) upgrading her marks.
Her goal of finding a placing in college after upgrading her marks was hijacked by the Covid19 pandemic. She couldn't secure enough money for her school fees to get into the Institute of Business Studies where she applied to because kaukau bags were no longer reaching Port Moresby from the Highlands region under the State Of  Emergency restrictions.
The SOE cost her not only her savings and the kaukau resale business but her education dreams too.
With the little savings she had left, Noami switched to selling vegetables.  Vegetable resale has a 3-day turnover and so she now restocks her sales products twice a week.  These include; ginger, carrots, spring onions, and snake beans.
Table 2: Naomi's Vegetable  Income and expenditure from vegetable sales
Items

Expenditure

Income

Carrots

K700

K900

Onions

K20

K30

Ginger

K20

K30

Beans

K300

K400

Bus fare

(K4 x 3 days)=K12

 

Lunch

(K5x3 days)= K15

 

Breakfast

(K10 x 3days) = K30

 

Flex

(k3 x 3 days )= K9

 

Miscellaneous (market fee etc)

(K10 x 3 days) = K30

 

Total

K1136

K1360

Total Profit in a week

K224 x 2 (turnover in a week) = K448
Her total profit in a week is now around K400 which is shared through family obligations and recouping her school fee savings for next year.
Being niche of all the city markets, Gordon's is the busiest, overcrowded, and with a very high petty crime rate. When asked about her safety and security, Naomi says everyone knows everyone and they all look out for each other as a community.
Some of the main setbacks Naomi has faced are:
COVID-19 Lockdown. The lockdown cost her supply of kaukau, her education plans, and her savings.
The very high cost of living in Port Moresby. Having a small place of her own with relatives was her biggest advantage as she could not afford a private rental with profits made. Naomi says basic meals for a day could cost K50, apart from her K15 lunch and breakfast expenses, she must buy food for the house that includes some protein and vegetables.  If she were back in her village, this money would take a month to spend since everything is free from the garden and land. She noted that it is very challenging to save money in the city.
Market competition and insufficient income. There is high competition within the market itself and sometimes she will want for a K10 or K20 profit because everyone is selling the same goods. Perishable goods do not last long so she often has to reduce the price to sell off her stock quickly. Some days she makes no profit, others as low as K10 so having a back-up plan always sustained her.
Lack of financial literacy.
Naomi's case story highlights the lack of financial skills and innovative market advances that are holding back so many women who have no formal savings and lack access to information on how to save, budget, and get loans to start their own SME. Many don't know how to register a small business nor have the financial management knowledge to start or improve a formal business. As a result, most women are in the markets for survival only and have no further achievable ambition.
In Naomi's case,  she has no savings secured in a bank account and has no idea how to register a business nor get an SME loan to start one. Even though she has been a full-time reseller for almost two years now, she keeps her savings in cash and uses them when the need arises. She has been educated all the way up to grade 12 but has never been taught the financial literacy skills she needs or received any training on starting and improving a business, the skill she most needs to guide her business venture. Sadly, she does not even know where to access that kind of information and worries about the costs that would be involved.
When asked about the SME concept, she said all the other women sellers have talked about  SME and the K100 million given by the government to support them, but many like her don't know how to access this funding. The woman next to her has been in market vending for 17 years with no formal savings even though she owns a piece of land and a house purchased from her earnings.
Financial exclusion is a critical issue in Papua New Guinea that stops people from participating and benefiting from the support that exists for the monetary economy. Voigt-Graf & Cornford, (2018) state that, within the South Pacific region, Papua New Guinea has the lowest levels of financial inclusion. Although PNG has made some progress in increasing financial inclusion through the leadership of the Bank of PNG and the Centre for Excellence in Financial Inclusion (CEFI), in collaboration with key stakeholders in government, financial service providers and development partners, despite recently increased estimates of financial inclusion from Bank of Papua New Guinea the exact figures are not clear and the level of financial exclusion remains high.
From this case study, we find the main challenge preventing market vendors from achieving their goal is a lack of understanding of the process of opening and managing a bank account,  insufficient income, and a lack of financial capability.
While a  K100 million cash basket has been stashed in Bank South Pacific to support SMEs many informal vendors are stuck by the undeniable truth of not knowing how to access such financial support and not even a financial training guide to start or improve their business. 
Despite government efforts, informal entrepreneurs remain financially excluded and much more needs to be done to keep the momentum going.