Submitted by

ACTNOW

on Mon, 06/03/2023 - 15:06
KK Connections Limited
Number of concessions (1993-2021): 15
Total Log export (2019-21): 991,615 m3
Market share of log export (2019-21): 10%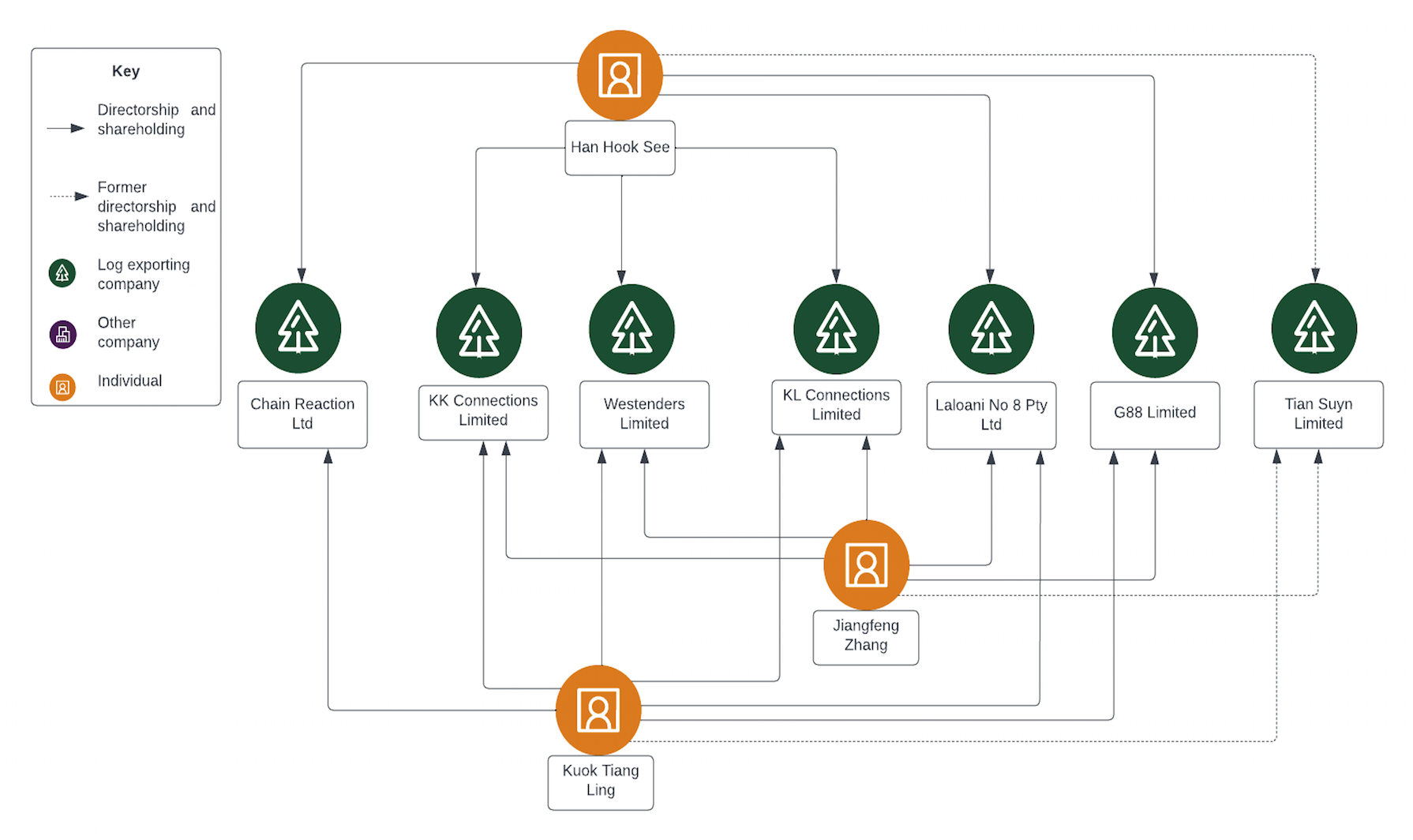 KK Connection Cluster (From"The New Timber Baron Report")
Seven companies that hold licenses over logging concessions in PNG are linked to each other through common directors and shareholders - in particular, Malaysian national Han Hook See, Kuok tiang Ling (also a Malaysian national) and Jianfeng Zhang (a Chinese national). Collectively, these companies have exported logs from 15 concessions, almost entirely in East New Britain province, and exported close to 1 million m3 of round logs between 2019 and 2021. The largest company in the corporate group (by log volume export) is KK Connections Limited. Malaysian nationals See and Ling together own 80% of KK Connections. 
A further six companies appear to be part of the same corporate cluster, including KKC Sawmill Limited, KKC Veneer Limited and KKC Veneer No 2 Limited - all of which appear to be wood processing companies - and a company called Eastwest Oil Palm Industries Ltd. 
KK Connections has historical links to two Chinese import companies- Ningbo ND Import and Export Co, and Ningbo Yongli Pte Ltd (Ningbo Yongli is alternately spelled "Ninbo Yong Lee Timber" in documents filed with IPA). Ningbo Yongli Timber was a shareholder in KK Connections from 2009-2015. Ningobo ND Import and Export Co is the ultimate owner of another logging company - Tain Suyn Limited - which had individuals associated with the KK Connections Group on its board or as shareholders until 2021.
Ningbo ND Import and Export Co is the sole shareholder of PNG-based holding company PNG ND Resources Investments Co, which in turn owns 100% of the shares in Tian Suyn Limited. Han Hook See and Kuok Tiang Ling were directors and shareholders of Tian Suyn from 2014-2017 and another figure associated with members of the KK Connections group, Ka Tai Lee was a director from 2008-2021. See and Ling were directors of the company alongside PNG ND Resources Investment Co. Between 2010-2017 Tian Suyn Limited exported logs from Suikol Makolkol Forest Clearance Authority (FCA) in East New Britain, and from Rai Coast Timber Rights Purchase (TRP) agreement area in Madang. 
You can find out more about all ten Timber Barons - PNG's largest log exporting groups - in the report The New Timber Barons