Submitted by

ACTNOW

on Thu, 22/07/2021 - 07:53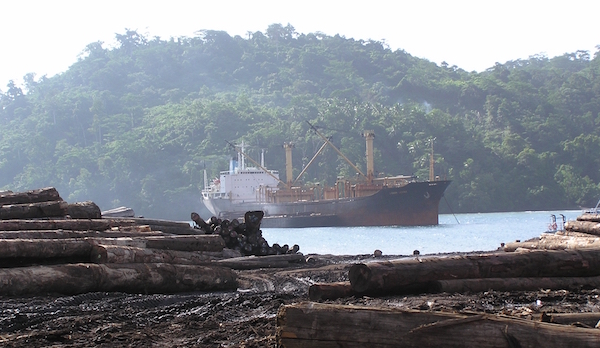 By Kingtau Mambon | UPNG Economics Tutor
Papua New Guinea (PNG) started the idea of a log export ban with fifteen specific timber species in the 1990s. Last year, the PNG forest minister stated that exports of all round logs will be banned by 2025. Is this for real?  Can PNG really ban round log exports by 2025? 
The last 13 years had seen this proposed round log export ban being plagued with ingrained poor political will. In 2008, the then Forest Minister, Belden Namah ambitiously decided to ban round log exports by 2010. Surprisingly, PNG achieved the highest level of round log exports after more than 35 years at the end of 2010. While watching in opaque silence, this led up to PNG being proclaimed the world's largest tropical round log exporter in 2015. Head-on, Peter O'Neill, the then Prime Minister on the 31st of July 2018 promised a complete ban on round log exports by 2020. 
In harmony to the previous governments stance and the rhetoric of 'Take Back PNG', the Marape government supported the round log export ban in 2019. Ironically, after six months of silence, the incumbent forest minister on the 10th of June 2020 announced that the start date of the ban of round log export had been extended to 2025. This controversial trend is clear; despite its decision to ban round log exports by 2010, PNG finds itself remaining as the world's number one round log exporter for over five consecutive years leading up to 2020 as shown in the figure below.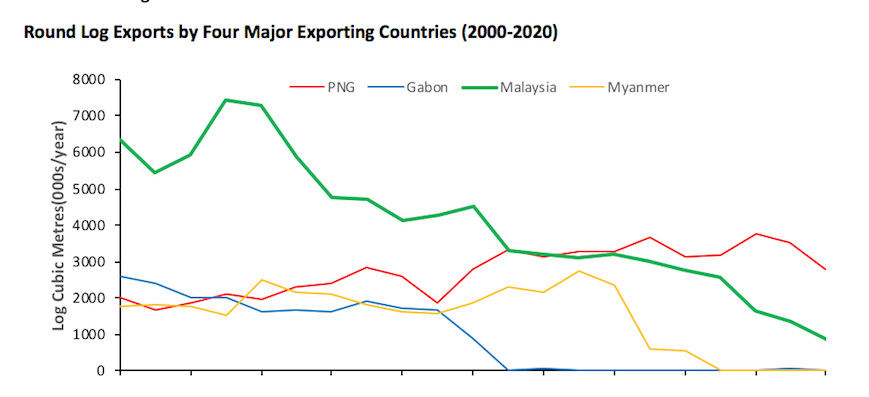 In their capacity as forest ministers, Belden Namah and Douglas Tomuriesa evidently supported the ban of round log exports. Belden Namah stated that revenue raised by downstream processing of logs would offset the impact from the round log export ban. Meanwhile, Douglas Tomuriesa was very specific that domestically processing logs could contribute billions of Kina to PNG's economy compared to round log exports. Going an extra mile, in 2010, the government even threatened to revoke logging firms' operating licenses if they failed to comply with PNG government's directions and regulations. Sadly, these are all thunders without rain. 
Following is the exact response from the incumbent forest minister when grilled in parliament about the proposed round log export ban. 
'Between 2018 and this year (2020), there had not been any work done in preparation for the round log export to cease'.
It is not only the political leaders, but also those resposible for policy implementation of the instruments of forestry sector that are failing PNG. Despite forest concession licenses of type Forest Clearance Authority (FCA) being deemed legally invalid, more than 30 FCAs were issued for operations between 2008 and 2018. The operational periods of some FCAs go beyond 2025. For instances, five FCA forest concession licenses are expected to expire in 2028 and two FCA license are expected to expire in 2042. Moreover, according to International Tropical Timber Organization (ITTO), some FCAs licenses do not have two vital pieces of regulatory information; first, the acquisition dates and second, their concessions periods. 
This clearly shows the ingrained poor political will that PNG must addressed if a round export ban is to materialize by 2025. There must be a clear presence of strong political will through amendments and implementation of the forestry acts.
All Data Source: International Tropical Timber Organization (ITTO)