Submitted by

ACTNOW

on Tue, 13/12/2022 - 13:32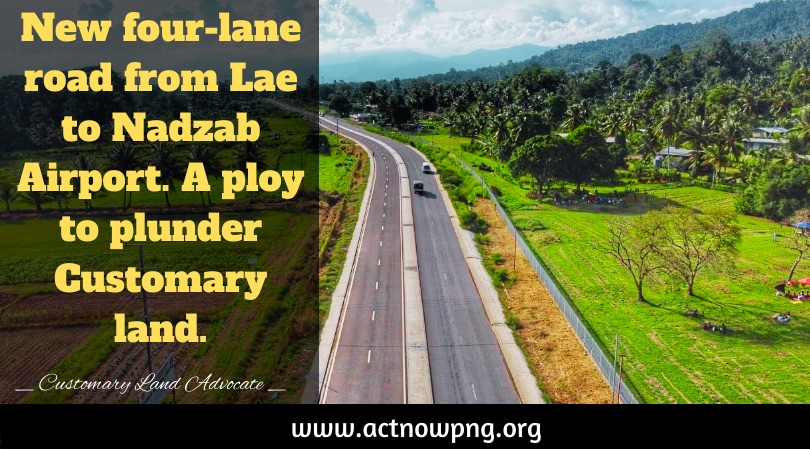 By Customary Land Advocate. 
A much-publicized four-lane road is being constructed by a Chinese company while customary landowners are not aware of what is going on. It is a perverted ploy by the State through its agencies and certain individuals to bring what seems to be a glamorous mode of development to Morobe Province at the expense of people's customary land.
Two pieces of legislation on customary lands were passed in 2009 and enacted in 2012. These were the Customary Land Group Incorporation Act 2009 and Customary Land Registration Act 2009. These two pieces of legislation supersede all other relevant laws that existed prior to their existence and anything to do with customary land in this country are now subservient to these two laws.
However, on the contrary, we now see the National Road Authority, Works Department, and the Chinese Railway International paying customary landowners compensation for damage to their crops, road markets, and others. But there is nothing said or done to compensate landowners for the loss of their customary lands. By law, no customary land in this country is to be forfeited to another entity without any form of compensation. If customary land is to be used for national or economic development, it must be registered by the customary landowners before they lease it. This is the requirement as per the Customary Land Group Incorporation Act 2009 and Customary Land Registration Act 2009.
The people of Butibam and Hengali have lost their customary lands for good through this ploy when the Bugandi-Busanim section of the Lae-Nadzab road was constructed. They were never compensated for the loss of their customary lands, but only paid compensation for damages. Now the people of Hengali, Yalu, Munum, Ngasuwapum and Gabsongkeg will lose their customary lands through the same ploy. Payment for damages has already started with Yalu village, but there is still no word out on compensation payments for the loss of customary lands.
The four-lanes will take up 20m of customary land on both sides of the road. And for every one kilometer of road constructed, customary landowners may lose 4 hectares of their land. Customary lands now taken up for the development of the four-lane will not revert to its owners for eternity. This is land theft carried out in a subtle way, and it must be investigated by appropriate authorities.