Submitted by

ACTNOW

on Mon, 09/05/2022 - 13:55

Papua New Guinea's tropical rainforests have enormous local, national and international importance but are under threat from a variety of sources including commercial logging.
The government has committed to drastically reduce the rate of commercial logging and increase financial returns from downstream processing by ending the export of unprocessed round logs by 2025, but a new research paper by ACT NOW shows there are serious questions over whether this target will be achieved.
Maximizing Value looks at the history of previous government commitments to end log exports and analyses whether current government policies are likely to be successful.
The Paper finds that not only have previous government commitments to end log exports failed, but that over time the volume of exports from PNG has actually increased.
The Paper also finds the government's claim that in support of its policy no new log export licenses have been given to foreign owned logging companies since 2020, is not supported by the facts.
An examination of official log export data shows that there have been at least eighteen new log export operations undertaken by foreign owned logging companies that have commenced in the last two years.
The data also shows the number of new operations starting up is accelerating, not declining. There were seven new operations that commenced in 2020 but eleven new operations in 2021.
Indeed, there were four new operations that made their first log exports as recently as December 2021.
The government has also declared that to reduce log export volumes no new timber permits or permit extensions will be issued for log export operations.
The Paper looks in detail at the potential impact of such a prohibition.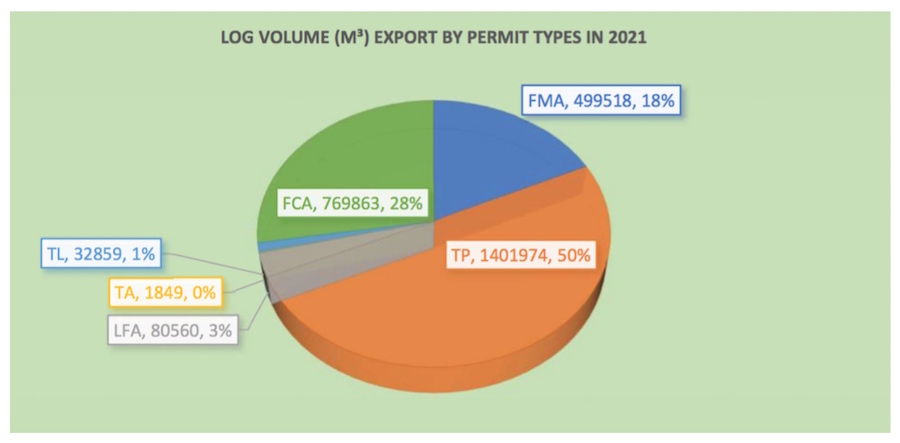 Image from SGS Log Export Monitoring Report 2021.
The Paper finds that logging operations carried out under a timber permit accounted for only 71% of all log exports in 2021. The other 29% of exports were authorized under a Forest Clearance Authority, Timber License or Timber Authority.
Stopping new timber permits and permit extensions will therefore not be sufficient, of itself, to end round log exports and there also needs to be a prohibition on new FCAs, TLs and TAs.
This potential loophole is also compounded, the Paper finds, by the length of some of the current timber permits under which logs are exported, many of which will not expire until long after 2025.
Of the sixteen timber permits under which logs are being exported and for which the data is available, none of the underlying agreements will expire before 2025 and the longest will not expire until 2053.
This means none of these timber permit log export operations will be affected by the prohibition on new permits and permit extensions.
Finally, the paper also highlights the complete lack of transparency around large-scale forest management in PNG and the lamentable lack of publicly available data that undermines effective policy debate and community oversight.
This is despite the general freedom of information declarations in the Constitution and the specific requirement in the Forest Act that the PNGFA to maintain a Public Register of critical information relating to the commercial use of forests. No such register exists and there is no information on current logging operations that is publicly available from the PNGFA.
The Paper concludes that while current government prohibitions, if implemented, have the potential to substantially reduce log export volumes by 2025, they will not deliver the government's stated objective of a complete end to unprocessed log exports.
There is also a worrying amount of evidence that the PNG Forest Authority is not implementing government directives and new log export operations are still being licensed.
This means there is unlikely to be any serious reduction in log export volumes by 2025 as promised.