Submitted by

ACTNOW

on Tue, 23/11/2021 - 10:52
Research into prosecutions for corruption in Papua New Guinea reveals that despite the enormous extent of the misappropriation of public funds only a tiny number of officials are ever charged and almost none end up being convicted or imprisoned.
This failure is likely one reason PNG shows no signs of overcoming its unenviable reputation as one of the most corrupt nations in the world and why allegations of corruption involving political leaders, the powerful and the wealthy remain rife.
In 2020, PNG was ranked 142nd out of 180 countries in Transparency international's Corruption Perception Index. PNG is the worst-ranked country for corruption in the Asia Pacific region.  
It has been estimated that as much as half of the government's annual budget ends up being stolen and the economic costs of the problem have been calculated to amount to billions of Kina every year.
One reason why corruption has been able to flourish is that law enforcement agencies are woefully under-funded and lack the skilled personnel and finances to investigate sometimes complex financial crimes.
This is compounded when even those corrupt officials who are investigated and brought before the courts are able to slide out of the prosecutors' grasp.
ACT NOW has conducted a survey of mainstream media reporting for 2019 and 2020 and identified forty-five cases in which a politician or senior government official was charged with misappropriation of other misuses of office. As of November 2021, none of those cases have yet resulted in a conviction or imprisonment.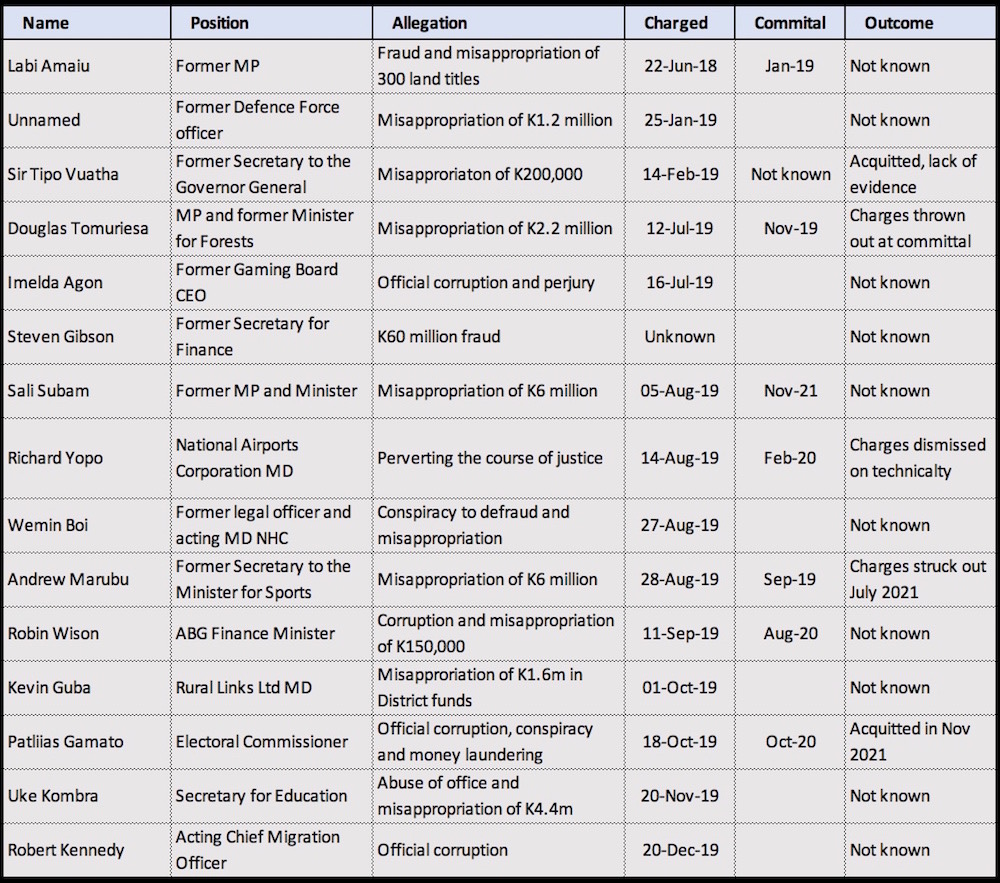 Figure 1: Corruption charges 2019
In five criminal cases, the person charged has avoided trial completely, the case against them being thrown out for lack of evidence or lack of police action.
In three criminal cases, the accused has been found not guilty at trial.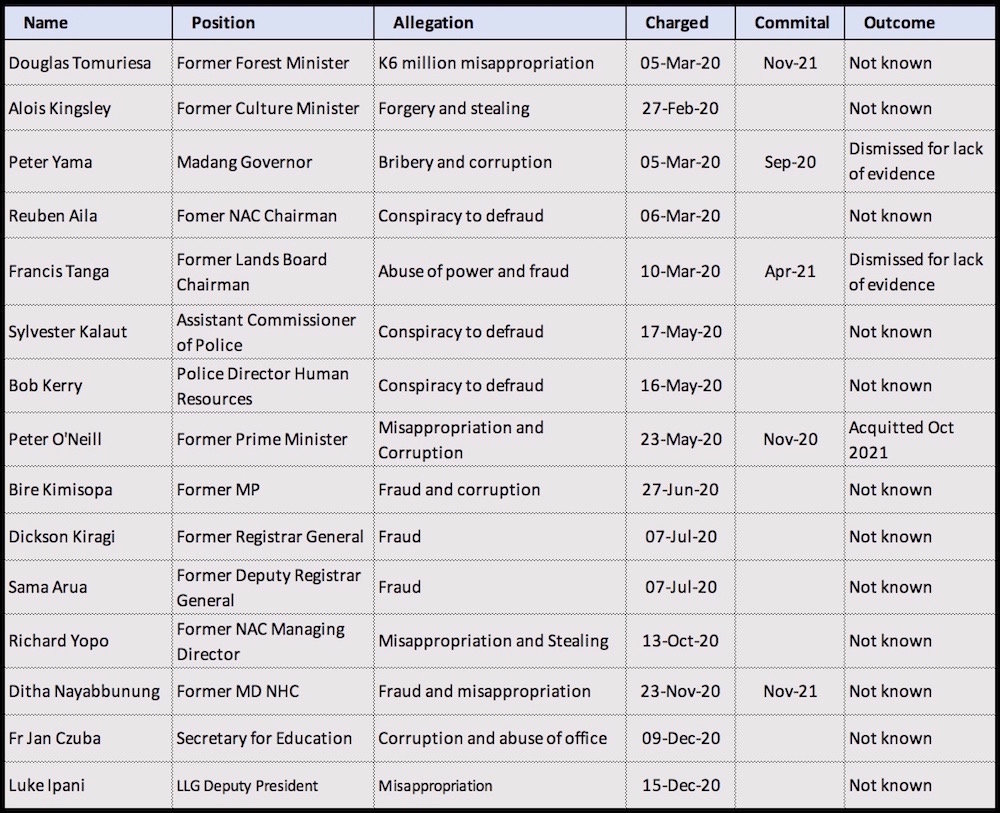 Figure 2: Corruption charges 2020
The remaining twenty-two criminal cases are either awaiting a court hearing or have simply disappeared from the public record. 
Two Ombudsman Commission cases, involving people referred by the Ombudsman Commission to the Public Prosecutor under the Leadership Code, have failed because of a lack of evidence.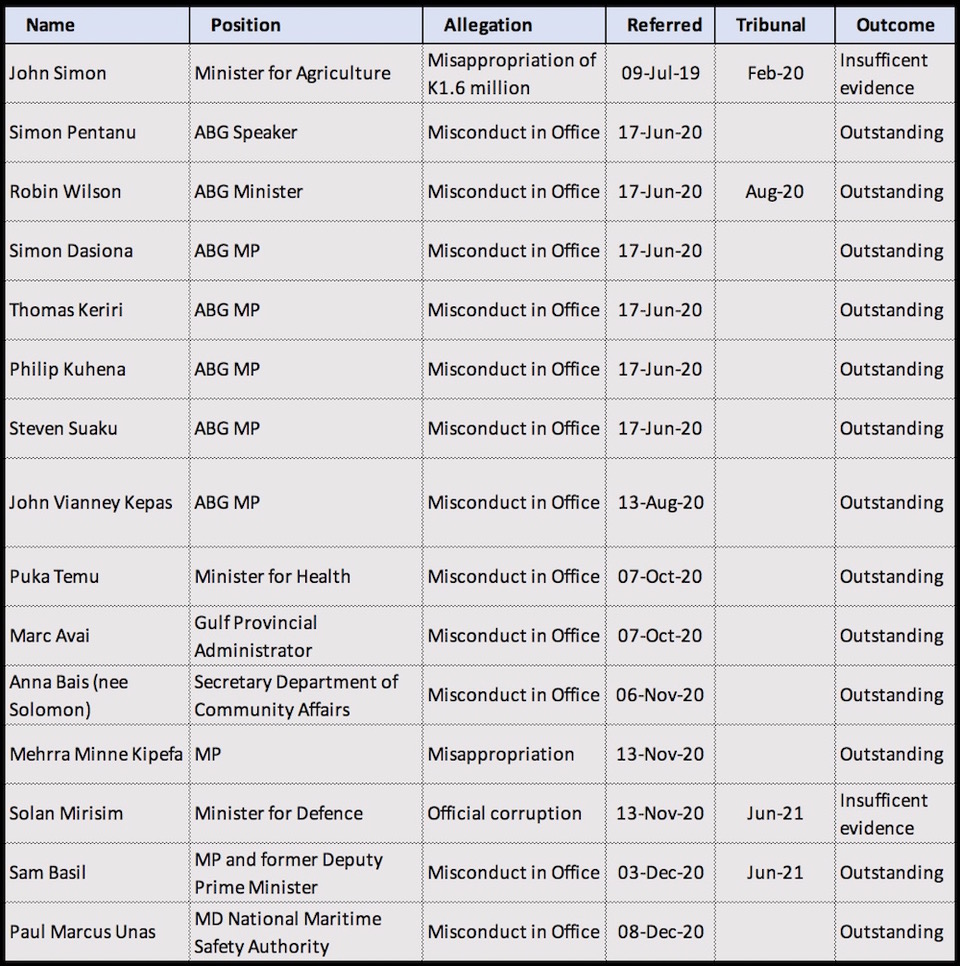 Figure 3: Ombudsman referrals 2019-20
Eleven cases Ombudsman cases are still awaiting a decision on whether they will be referred to a Leadership Tribunal and two tribunals are currently in session.
Those charged with criminal offenses in 2019 and 2020 include seven current or former MPs, two of whom are current government Ministers. They also include eleven current or former Departmental Secretaries or CEOs and one Bougainville government Minister.
The Ombudsman Commission referrals from 2019 and 2020 include three current government Ministers, two other current MPs, six Bougainville government MPs, and one Minister, two Departmental heads, and one Provincial Administrator.
The failure to bring to trial those charged with corruption offenses allows the corrupt to defy democracy and the rule of law; it undermines public trust and erodes the effectiveness of government departments and service delivery. It also demonstrates that the law and its institutions cannot currently be relied on to protect against corruption or deliver justice. This is despite numerous expensive investigations and public  inquiries into major scandals
Although the government points to the passage of the ICAC legislation in 2020 as an important step forward in the fight against corruption, it is clear there can be no single silver bullet that will cure all our ills and we are still waiting for the Commission to be properly set up and funded.
In September the Police Minister, William Onglo responded to concerns over the performance of the police by revealing there have been 522 cases of fraud investigated over the past 20 months involving more than K415 million. From those 522 investigations, 34 arrests have been made and 17 cases have been referred to the courts.
The Minister says these figures show the police are doing a good job, but we respectfully disagree. The police should be judged on convictions not the number of cases they investigate, and 17 cases referred to the courts from 522 investigations seems a very low number.
While Ministers may talk up the government's corruption efforts, PNG's continuing decline in the annual corruption perception index ranking echoes the fact there has yet to be any results in terms of corrupt deals reversed or successful prosecutions.
What measures are currently being taken to improve institutional performance and policing remains a mystery but there is certainly an urgent need for greater transparency and accountability and more effective oversight over what is happening inside the criminal justice system and how its performance can be improved.
Until this occurs, PNG will never get to see corruption brought under control and the level of basic government services restored to a decent level.
ACT NOW has previously published a full set of Policy Proposals for Open and Accountable Government, that includes a recommendation to reboot the whole national integrity system. This should include increased resourcing, independence and capacity building for all existing anti-corruption and governance oversight institutions, including the Ombudsman Commission, Auditor General's Office, Public Accounts Committee, the Fraud and Anti-Fraud and Corruption Directorate, the Public Prosecutors Office and the Financial Analysis and Supervision Unit.
The full Research Paper on which this article is based can be downloaded here
END