Submitted by

ACTNOW

on Mon, 03/04/2023 - 15:35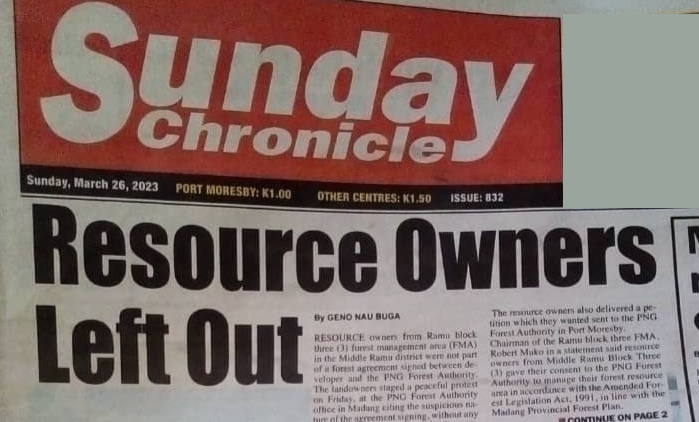 Landowners from the Ramu Block 3 area of Madang Province have accused the PNG Forest Authority of ignoring their wishes in allocating logging rights over their forests.
The landowners say the PNGFA has refused to hand over key documents for their inspection and they are suspicious about what the Forest Authority is trying to hide. The landowners also say the PNGFA has ignored a formal petition submitted by the group (copied below).
The landowners say they signed a Forest Management Agreement with the PNGFA but they have not been consulted on the choice of logging company and they fear that their wishes for 100% downstream processing have been ignored.
The landowners claim the PNGFA signed a logging agreement with the company Timbers PNG Limited, a subsidiary of Rimbunan Hijau, in August 2022, but they were not invited to witness the ceremony.
The landowners also say a Timber Permit has been issued to Timbers PNG without any Environmental Impact Study being carried out, which is in breach of the Forestry Act.
The landowners recently held a peaceful protest outside the offices of the Forest Authority in Madang.

The landowners plight was featured on the front page of the Sunday Chronicle newspaper at the end of last month.
The landowners are demanding the FMA be suspended, that the 'secret' project agreement between the logging company and the PNGFA be terminated and the Timber Permit be cancelled.