Submitted by

Cathy Tukne

on Mon, 17/07/2023 - 14:50
Users of the DDA Watch website are encouraged to upload comments about the performance of individual District Development Authorities for display on the relevant DDA page. Steps to make a comment on your DDA
Step 1: Find the right page for your DDA. Go to the "Find and Score your DDA" search button on the homepage.

You will land on your District page. (All 93 district has a district landing page. Exclusive of AROB) Below is the landing page for North Waghi DDA.
If you type in "North" on the search bar, four potential names appears (North Waghi, Moresby North East, Moresby North west and North Fly).
Double click on "North Waghi and the North Waghi landing page appears. ( See Image in Step 2)
Step Two: Comment on your DDA landing page
Once you land on your DDA page, scroll down to find the comment section. Click on "Add new comment".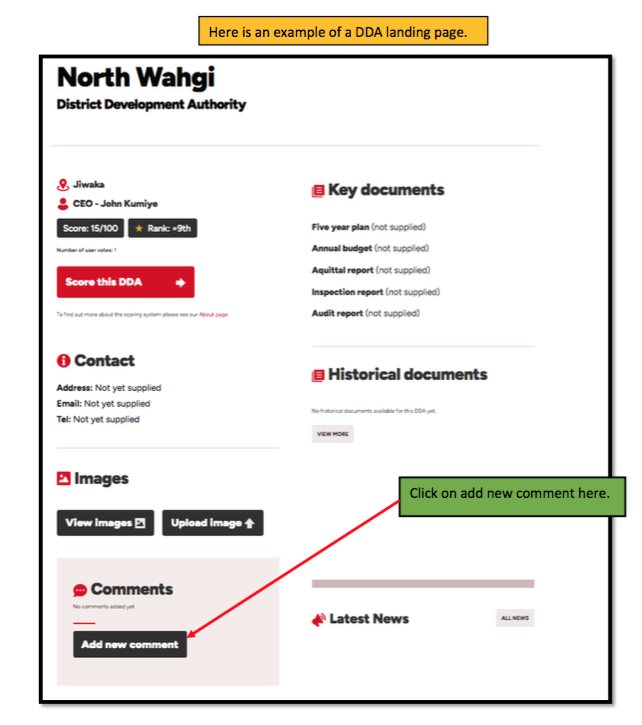 When you click on the button, a pop-up comment form appears.
Enter:
Your Name

Your Comment

Enter CAPTCHA by answering the math equation.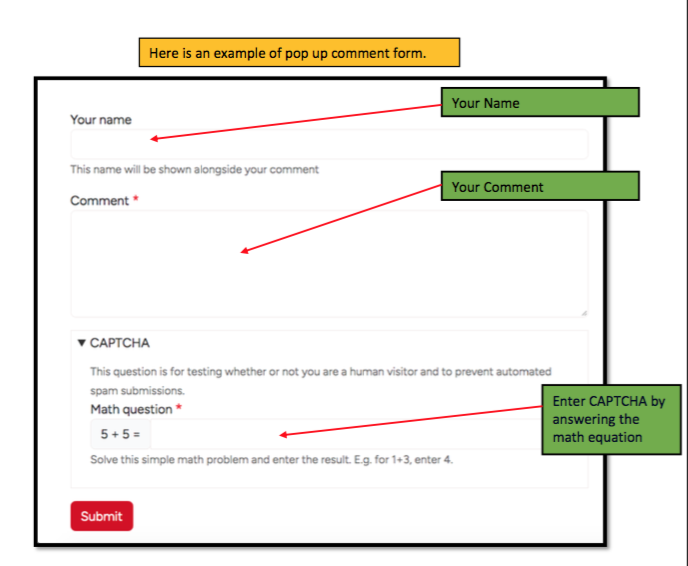 After writing your comments and filling your name and CAPTCHA, Click the red "Submit" button to send.
Note:
All user-submitted comments are reviewed by an ACT NOW staff member before they are approved for publication.
Any comments that include sexist, racist or homophobic language or hate speech, or language that is rude, obscene, offensive, bullying, intolerant or intended to scare or intimidate, and any comments containing personal details may be edited or deleted.
Users are also not allowed to post any links to or advertise any commercial products or services. 
Comments containing false, fake, or misleading information will also be edited or deleted. 
If you think a comment has been incorrectly or unfairly deleted or edited you can ask for a review using the contact form.