Submitted by

ACTNOW

on Wed, 26/01/2022 - 05:15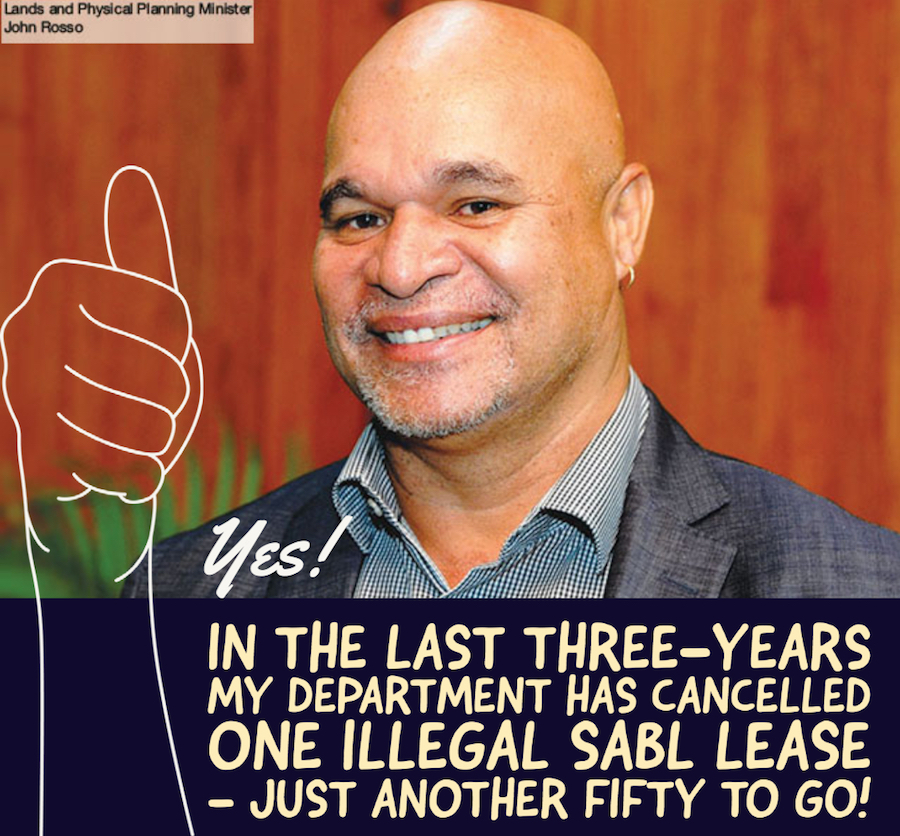 Nine years after a Commission of Inquiry exposed the huge illegal SABL land grab, government efforts to cancel the leases have completely failed.
Last week Lands Minister, John Rosso, told Parliament that of seventy SABL leases recommended to be be cancelled only twenty have so far been rescinded. 
Just twenty leases cancelled over a nine year period is frankly pathetic.
Even more worrying is the fact the pace of the cancellations has slowed to an almost complete halt. Since 2019, just one SABL lease has been cancelled.
Since the Commission of Inquiry reported in 2013 the public have been repeatedly misled over the government's intentions.  
Politicians's have promised time and again that all the SABL leases will be cancelled. There have been three different committees appointed to oversee the process. Yet, only twenty out of the seventy leases have been cancelled, that is less than one third of the total.
According to John Rosso, there are a further thirty SABL leases that have been recommended to be cancelled but are still awaiting action and another twenty that are currently subject to court proceedings.
The Commission of Inquiry investigated seventy-five leases issued between 2003 and 2011. They covered a total land area of more than 5 million hectares or 50,000 square kilometres, making the land grab one of the biggest ever recorded.       
In their 2013 findings, the Commissioners stated almost all the SABL leases were illegally issued and that the whole land acquisition process was riddled with corruption, mismanagement and abuse. The Inquiry recommended most of the leases be cancelled.
The failure by successive governments to cancel most of the leases clearly suggests the problems of mismanagement and corruption identified by the COI are still prevalent today.
Just as serious is the fact that thousands of customary landowners are still suffering the unjust loss of their land and all the associated human rights abuses. 
In 2018, the United Nations accused the Papua New Guinea government of racial discrimination against its own people over its failure to stop foreign companies using SABL leases to illegally occupy customary land. 
This was after ACT NOW and UK based organised, War on Want, published a report highlighting the serious human rights abuses being suffered by the victims of the land grab.
The PNG government has ignored the UN criticisms.