Submitted by

ACTNOW

on Mon, 28/06/2021 - 08:18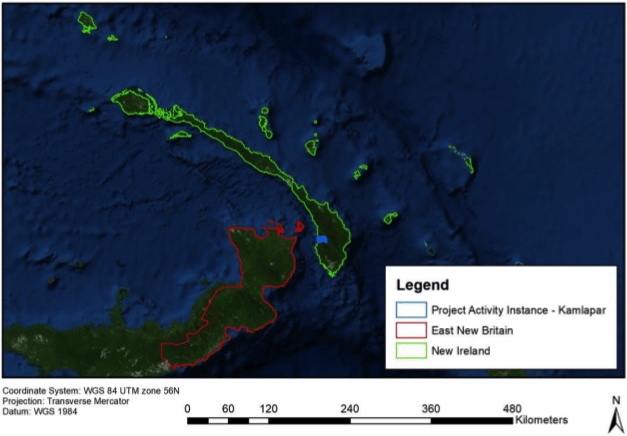 Map showing the location of the Kamlapar Carbon Credit Project
Landowners in New Ireland claim a US based company is illegally selling carbon credits on the international market that it has obtained by fraud. The landowners have written to the government and the international company that is verifying the carbon credits to try and stop the sale.
According to the executives of the Kamlapar Incorporated Land Group, the US based NIHT Inc. "is operating illegally as it does not follow Papua New Guinea's laws, and they have used fraudulently ways to obtain their VCS [verified carbon standard] project and carbon credits".
NIHT is selling carbon credits under the 'Topaiyo REDD+ Project' to international companies who want to reduce their carbon footprints. The project has been certified by another US based company, Verra Inc., under its Verified Carbon Standard.
Although the Kamlapar ILG initially signed a contract with NIHT, the landowners claim that agreement is invalid as they did not give free and informed consent. The ILG members say they were rushed into signing the contract and were not given time to seek independent legal advice or even discuss the terms amongst themselves. 
They say they have never been given a copy of the benefit sharing agreement and do not know if they are entitled to a share of the total revenue from the carbon credit sales or just a percentage of the profits.
The landowners also say the contract was not cleared by the State Solicitor prior to signing, as required under the Carbon Credit Management Act. The Act states, in Section 90, that a contract that is not approved shall be 'invalid and unenforceable'.
The Kamlapar ILG members have twice complained to the Climate Change and Development Authority about the activities of NIHT and its PNG subsidiary NI Holdings Ltd but have not received any formal response. The landowners say the CCDA did send two staff to the area, but claim the visit was sponsored by NIHT and the officers only talked to project supporters who do not represent the true landowners.
A full copy of the letter from the Kamlapar ILG to the CCDA and Verra, is attached below.