Submitted by

ACTNOW

on Thu, 01/09/2016 - 13:12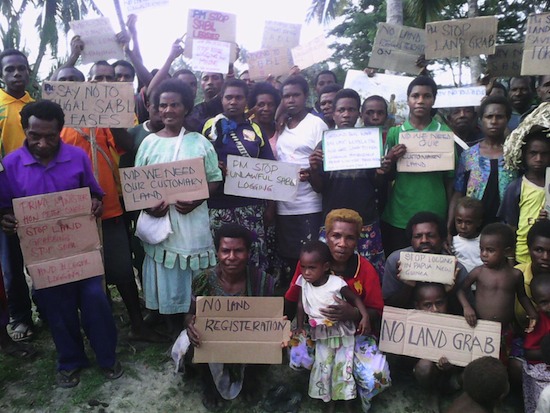 Court upholds SABL ruling
Source: Daphne Wani in The National (owned by logging company Rimbunan Hijau)
THE Supreme Court has upheld a lower court's decision of 2014 despite a judicial review application by Sepik Oil Palm Plantation Ltd over a Special Agricultural and Business Lease (SABL).
The court ruled in favour of Kowiru villagers from Turubu in East Sepik over their customary land.
The Supreme Court bench comprising Justice Salatiel Lenalia, Justice Terence Higgins and Justice Lawrence Kangwia upheld the decision of Justice Gavara Nanu in July 2014 in Waigani yesterday.
Higgins confirmed the findings and orders of Nanu and said the consultation did not meet the standard process required by the Land Act.
"It can be added that the State was a party to this appeal and made the powerful submission that the process resulting in the issue of this SABL was flawed and could not be defended," Higgins said.
The appeal arose from an application for judicial review proceeding by customary landowner Leo Maniwa and on behalf of the Kowiru villagers Philip Dagu, Elias Maimbe and seven others challenging the granting of their lands on a SABL to the Sepik Oil Palm Plantation Ltd (SOPL).
The appellants were Hui Tech Lau, as director of Wewak Agriculture Development Ltd, directors of SOPL and seven others.
The application sought a review of the decision by the then Minister for Lands and Physical Planning Puka Temu on Sept 2008 to grant a SABL to developer SOPL.
Nanu found that provisions of the Land Act, were not complied with by the minister when granting the SABL.
Nanu also found and declared that the SABL was issued in breach of the Constitution in that the landowners were unlawfully deprived of their customary land.