Submitted by

ACTNOW

on Mon, 16/12/2019 - 20:19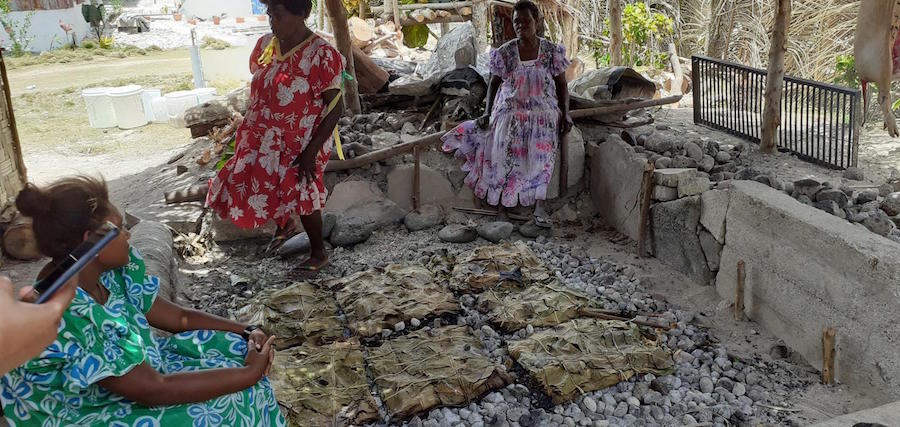 Local Ni-Van women from Takara village preparing local laplap
Author: Joey Tau
The production and consumption of indigenous foods are important for our resilience and the survival as Pacific people, especially in challenging times of fast and easy foods.
Numalin Mahana, an advocate who promotes indigenous or local food production and consumption in Vanuatu says a lot of people are dying to non-communicable diseases (NCDs) and it is important that we relook our diets and practices of producing and consuming food.
Speaking at the 7th meeting of the Melanesian Indigenous Land Defence Alliance (MILDA) in Vanuatu recently, Numalin said her call for indigenous food or kastom kaikai (kaikai blo ples) celebration is a result of lived health experiences that changed her approach to food consumption and production.
"We need to be careful with what we are producing and feeding our bodies, our children, our families and communities. Today, there are a lot of chemicals in our foods and we are building addiction to bad habits that are destroying our people in Melanesia."
Numalin said NCD related illnesses are stretching and stressing our health systems, and it is time people go back to eating local and healthy.
"I have been working with women in Vanuatu, especially my home island of Tanna in trying to change my people's approach to food. Food and politics (or decision making) is interesting in Melanesia, and I have been able to connect with women and make changes in decision making spaces."
Numalin said her advocacy around kastom kaikai has revived traditional practices and celebrations centred around food and the importance of our land and people as Melanesians.
"There is a relationship or connection to everything we do as a community or society, and for us as Melanesians, we need to understand and appreciate the relationship we have with our food and land," says Numalin.
Joel Symoh from the Vanuatu Kalja Senta (VKS) Land Desk said indigenous food production and consumption are important and are dependent on our customary land management practices and such connections or relationships must be protected.
As MILDA convened its 7th meeting on the importance and protection of indigenous land tenure systems, Symoh said "our indigenous or local kaikai is a celebration of our land and as Melanesians, we must determine our land and not to allow any foreign or non-customary system of law or governance.
"We must protect our land as it is the source of our food and identity as Melanesians…and we must educate the next generation to maintain these values," stressed Symoh.
MILDA says it will continue to promote the production and consumption of indigenous foods, Melanesian systems of science, research, teaching and learning to bring about greater generation-to-generation transmission of, understanding of and appreciation for our indigenous knowledge, practices and languages.
MILDA was formed in 2009 by a collective of individuals who shared a vision and commitment to working together to protect customary land systems and Melanesian values.