Submitted by

Effrey

on Fri, 07/11/2014 - 08:43
Australia is the largest single beneficiary of rampant and unsustainable logging and land grabbing in Papua New Guinea, according to leading community activist group, ACT NOW!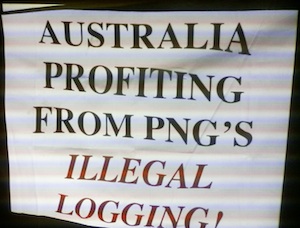 The Australian government is hosting an 'Asia Pacific Rainforest Summit' next week to look at ways of reducing forest loss in the region. But ACT NOW! says that Australia has failed to show any interest in the issues of rainforest destruction and land grabbing in PNG, its closest neighbour.
"In PNG forests are disappearing at an alarming rate, but Australia has not said or done anything about the huge SABL land grab or the continuing problem of illegal logging", says Effrey Dademo, Program Manager for ACT NOW!
"This silence could be because of the enormous benefits Australia currently enjoys from the existing status quo".
These benefits, says ACT NOW!, include property investment in Australia by corrupt officials in PNG, Australian banks facilitating transfers of illicit funds and providing services to companies involved in corruption; other money laundering; general investment and trade; and boomerang aid.
The forests of Papua New Guinea form part of the third largest tract of tropical rainforest left on the planet - but this forest is quickly disappearing thanks to land grabbing and unlawfully and unsustainable logging. More than 5 million hectares of land - more than 10% of the total land mass - has been stolen from local communities in a huge land grab, and PNG exports more than 3 million cubic meters of raw logs every year. Scientists estimate half the forests will be gone by 2021.
ACT NOW! says Illegal logging and land grabs in PNG are symptoms of widespread corruption and undermine good governance, impoverish local people, destroy the environment and also directly threaten Australia's border security by creating landless refugees and destabilizing the nation.
ACT NOW! is calling on the Australian government to publicly acknowledge the problems of land grabbing and unlawful logging in PNG and assist the PNG government to address them effectively. It also wants to see more support for PNG's anti-corruption Task Force and effective measures to stop the flow of money from political corruption and illegal activities in PNG into Australia.
Attached Fact Sheet: Australia Profiting from Rainforest Destruction