Submitted by

Effrey

on Tue, 21/10/2014 - 09:35
The Papua New Guinea Forest Authority (PNG FA) will not cancel the Forest Clearance Authorities it has granted allowing logging inside Special Agriculture and Business Lease areas and thus is not defending the rights and interests of customary landowners.
This was made clear in a recent meeting of NGOs with the PNGFA.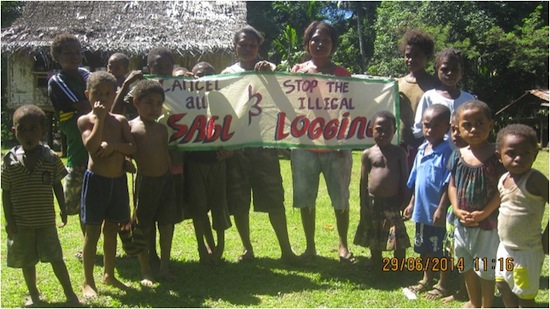 ACT NOW! led a delegation to meet with the Managing Director and his senior staff. The delegation, which included Transparency International (PNG) and Partners with Melanesians Inc, presented a detailed submission explaining why logging in SABL areas across the country is in breach of the Forestry Act and unlawful.
When asked why FCAs over illegal SABL areas have not been cancelled, the Managing Director said that PNG FA will only cancel FCAs if the Lands Department cancels the illegal SABLs.  So rather than fulfilling its obligations under the Forestry Act to ensure the interest of ALL landowners are protected the Forest Authority is passing the buck for not talking action.
The Managing Director also made it clear that the Forest Authority is only complying with Government policies to bring "development" to the 10 economic corridors (10 least developed areas of the country). This brings us to the question of why previous logging in these areas, has not realized any tangible development and what sort of development is the logging industry really providing? 
Poorly paid jobs, badly constructed roads, social division and human rights abuses are not the development PNG needs and do not match our Constitutional goals and development principles. 
The job of the PNG FA is to ensure the proper management of forest resources and enforcement of the law. PNG FA is not a development agency. The PNG FA is choosing to ignore the fact many landowners do not want their forests destroyed and all the negative development the logging brings.
While it is undoubtedly true Department of Lands and Physical Planning (DLPP) should cancel the leases, the Forest Authority has its own responsibilities under the Forestry Act. The Forestry Act has been breached as there are no valid leases or other land tenure underpinning the Forest Clearance Authorities granted by the National Forest Board. It is the sole responsibility of the PNGFA to administer the Forestry Act and ensure all logging operations are lawful. The PNGFA also has a responsibility under Section 46 to fully recognize and respect the rights of customary owners and their is clear evidence that has been presented to the Authority that many landowners do not want the logging.
So while it is correct, DLPP should act to cancel the leases, PNGFA cannot avoid their own responsibility, which is for sustainable management of forest resources.