UPDATE: Wednesday 20 June 2012
It is the shareholder meeting of deep seabed miner Nautilus Minerals in Toronto, Canada today. You can visit out website to see our media release Nautilus seabed mining experiment falters. There will be activists from the Mining Injustice Solidarity Network in Toronto handing out a flyer to shareholders as they go into the meeting – many thanks to their wonderful support!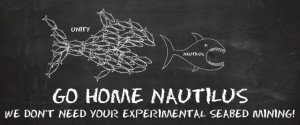 Also this week Pacific women have been taking to the streets at the Rio+20, United Nations Conference on Sustainable Development to highlight. Check out the photo of the banner they have been parading around Rio, Brazil, and media articles here and here.
Out Namibian friends from Swakopmund Matters have also been busy connecting with Kiwis Against Seabed Mining to find out more about New Zealand company, Chatham Resources and their proposal to mine the seabed in Namibia. Along with New Zealand, Australia is also a culprit in trying to destroy the seabeds in Namibia. Swakopmund Matters have written a letter to Prime Minister Julia Gillard and Environment Minister Tony Burke to highlight community concerns about Minemakers and UCL who also want to mine Namibia's seabeds.
While we all know we have a long way to go to stop seabed mining we can gain strength in knowing that we have a growing unity and solidarity across the globe.
PS: The insidious nature of companies like Nautilus Minerals was ever present again for me this week. The Australian Museum in Sydney have a new Deep Oceans exhibit. I was really excited to see an exhibit that was set up for young people to learn about the importance of our ocean floors. Sadly on my exit from the exhibit I saw the sponsor board, Nautilus Minerals was a sponsor along with Neptune! Don't worry we won't be letting this one slip by we shall be writing a letter to the museum.
UPDATE: Friday 8 June 2012
You can see the media release we put out for World Oceans Day against seabed mining. To our friends inPANG (Fiji), Act Now PNG, Kiwis Against Seabed Mining (New Zealand), and our new friends fromSwakopmund Matters in Namibia we made reference to your good work at the end of the release.
We recently created a new graphic and the team at the Pacific Network on Globalisation have used it to make Stop Experimental Seabed Mining t-shirts, check them out! PANG campaigner, Lice Cokanasiga said that there is a batch (and a banner) going the Rio+20 United Nations Conference on Sustainable Development.
Also in the media today were some comments from Charles Roche, (Mineral Policy Institute, Australia) opposing the industry.