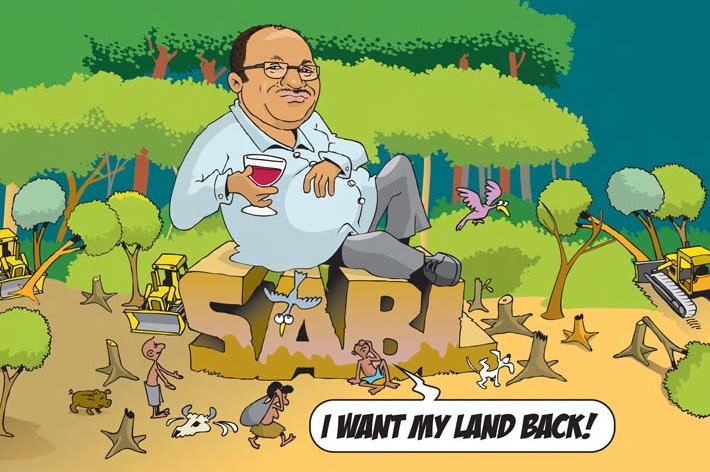 Source: LUKE KAMA, The National (owned by Rimbunan Hijau)
LANDOWNERS who were deprived under the controversial Special Agriculture Business Leases (SABLs) want to know when the Government will implement a Parliament a decision to cancel all existing leases.
Lands Minister Benny Allan told The National that he would make an announcement soon on the subject.
Chairman of Vane Mata Incorporated Land Group at Papa village in the Kairuku-Hiri district of Central, Joseph Baeau, said the minister and the Lands Department should clarify the situation.
Prime Minister Peter O'Neill told Parliament last year that leases under SABL were given without much consultation in the past and as a result many of the landowners stood to lose ownership of land without proper compensation.
"That is why the Government has taken a tough position and instructed the Department of Lands and Forestry to cancel all the SABL leases," O'Neill said.
Baeau said lease holders were still doing land surveys and continuing with normal business despite the cancellation.
"That is not supposed to be because sooner or later we the worst will come up from these delays," he said.

"Landowners will take the laws into their own hands.

"I am speaking on behalf of all those legitimate landowners who suffered silently in the remote parts of the country without the opportunity to express their concerns and frustrations.

"Our land has been obtained illegally under this worst and the most corrupted land-grabbing scheme."
Baeau said they had taken on court battles against two companies that obtained their land in 2010 and the matters were still under judicial review when Parliament intervened and cancelled the SABLs last year.
"We commend the Prime Minister and our members of parliament for their wisdom because justice was served to us.

"Therefore we request the lands minister and the department to take action, effect and implement the cancellation.