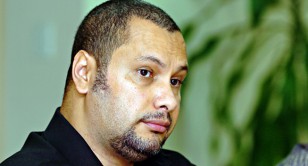 Source: Post Courier
ILLEGAL land grabbing has been a major problem for Papua New Guineans both in the urban and rural areas, Oro Governor Garry Juffa said to the Bagasin people in the Collingwood Bay area of Oro Province.
In a visit to the Uiako village where he launched a TV dish for the local primary school and the community last Friday, Mr Juffa assured the people that no one would take their land away from them.
Uiako community, which is part of the Collingwood Bay SABL (special agriculture business lease) area, has been battling in court to win back their land with the help of Mr Juffa.
He was instrumental in taking the matter to court which he won for the Bagasin people who are now rightful owners of their land.
"Land is our identity and our future and we will not allow anybody to come in with sinister motives to take it or extract our resources without our participation and consent," Mr Juffa said.
He said government departments and institutions that have been designed to protect the people and their land have now turned against the people. "Land is your future and your children's future and I will stand with you to make sure your land is protected from illegal and aggressive land grabbers who are mostly aided by government officials," he said.
He said people in the rural areas were identified with their land as their source of strength and identity but the government's SABLs and other forms of policies seem to be posing a danger to the people instead of protecting their rights.
"I am not against development but if we are to develop our people's land, they have to be equal partners in whatever development that takes place on their land and not become spectators in their own land," he said.
As a mandated leader of the Oro people, he said he would fight for their rights and make sure the people get what they wanted from their resources.
Mr Juffa said cocoa would be an alternative crop for the people to get involved.