Submitted by

ACTNOW

on Fri, 26/06/2015 - 10:12
MSG has finally opened doors for West Papua giving the United Liberation Movement for West Papua (ULMWP) rights to sit on the MSG balcony as observers.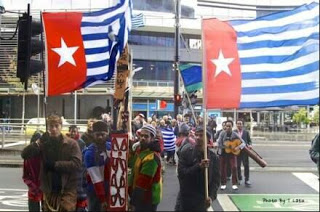 West Papuans waiting result of thier Application submitted to become member of the MSG. Photo credit: Constantinopel Ruhukail
Source: PNG Today
"Today is very a important day for peace and goodwill for our Brothers and Sisters living in Indonesia's Melanesian provinces," Papua New guinea's Prime Minister, Hon. Peter O'Neill CMG MP said as he left the meeting of Melanesian Spearhead Group Leaders in Honiara.
Following discussion between the Leaders of Melanesian Spearhead Group countries, the group has decided that Indonesia is to be admitted to MSG as an associate member, and be represented by the elected leaders of these Melanesian provinces (West Papua).
Further to this, the United Liberation Movement for West Papua (ULMWP) will be given observer status as a development partner representing the welfare of Melanesian people living outside. Papua New Guinea welcomes the decision that reaffirms representation at the sub-regional level must be made by mandated leaders that have been elected by their people.
This decision by MSG will pave the way for Indonesia and Papua New Guinea to engage in consultation within the framework of agreement with Indonesia. "I look forward to having deeper conversations with Indonesia and in the true spirit of being part of a regional family. "We are all partners in facilitating peace and security in our region.
"I believe we have the respect of Indonesia for the honesty and genuine nature of our offer to offer cooperation on this sensitive, issue. I further believe that groups such as ULMWP appreciate that our intentions are genuine. "Soon after coming to office I began a dialogue with then President Susilo Bambang Yudhoyono and now continue with President Joko Widodo.