Submitted by

ACTNOW

on Mon, 09/02/2015 - 13:02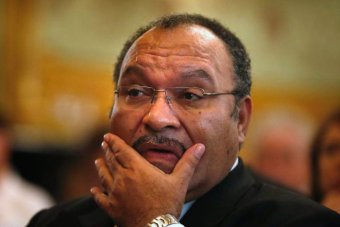 The National Court has restrained Prime Minister Peter O'Neill (pictured on right) from tabling in Parliament a Commission of Inquiry report on the payment of legal fees by State agencies to lawyers and law firms.
This is until an application for leave is moved or granted, acting judge Justice Leka Nablu says.
She issued the order last Friday after hearing submissions from plaintiffs Fly River provincial executive council and Kisakiu Posman. 
"There is evidence that it is possible that the report from Judge Warwick Andrew (commission of inquiry chairman) may contain adverse findings against the plaintiffs, which they did not have the opportunity to be advised of or notified of," Nablu said. 
She said the status quo should be preserved given that the Commission of Inquiry report was given to O'Neill on Dec 18 last year. The requirement is that it will be tabled at the next Parliament sitting. 
"I am of the view that it is in the interest of justice that an interim order is granted to maintain the status quo, so that those serious issues can be tried properly, evidence can be brought to court and all parties can be afforded the opportunity to be heard," Nablu said. 
The matter returns to court on Thursday for the plaintiffs to move their application for leave. 
Nablu advised lawyer Greg Egan  representing the Fly River committee and Posman that she did not give a ruling on the leave application because the originating summons had to be amended to plead only leave and nothing else. 
She directed that the State and other defendants be served and notified of the matter returning to court on Thursday as well.