Submitted by

ACTNOW

on Thu, 17/09/2020 - 15:12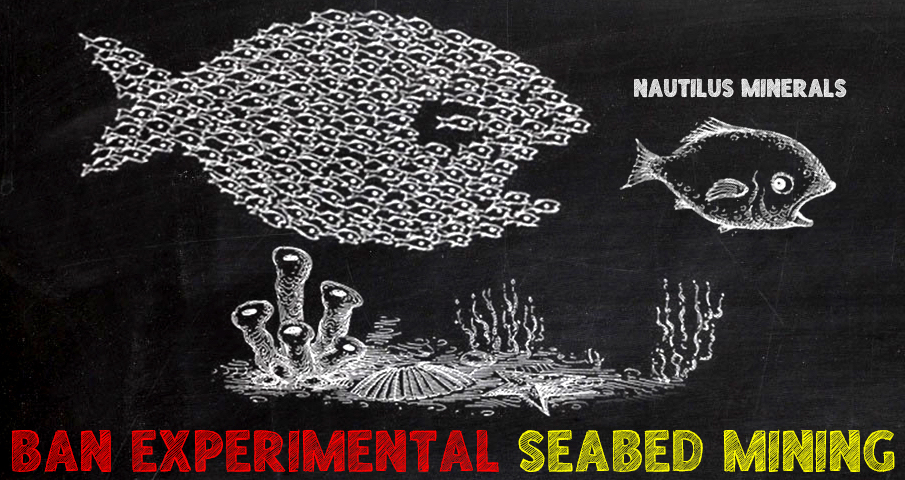 Environmental Defenders Office
, Sydney
The Papua New Guinea National Court has rejected the PNG Government's attempt to dismiss the community's case to obtain key documents relating to the Solwara 1 deep seabed mining project.
Solwara 1 – proposed for the Bismarck Sea off the coast of New Ireland – would be the first commercial deep seabed mining project in the world.  However, the PNG government has refused to provide affected communities with key documents, including the environment permit – the basic document setting out the environmental parameters of the mine.
Local communities have requested the information so that Papua New Guineans can clearly understand what the environmental, social, cultural and economic impacts of the project are likely to be and whether or not the project was approved lawfully.
The local community has grave concerns about the potential environmental, social, cultural, health and economic impacts of Solwara 1, which will essentially be an open cut gold and copper mine approximately 1.6 kms from the surface of the sea.  
Experts believe the proposed mine will have a number of significant environmental impacts, including the destruction of unique localised species and ecosystems that exist on hydrothermal vents (that have been said to hold the clues to life on earth); disturbances to marine life from light and sound pollution; impacts from the release of sediment into the ocean; negative impacts on benthic and pelagic ecosystems and related ecological processes from the return of de-slurried seawater to above the seafloor; and risks to near shore environments and ecosystems as the result of the transportation and storage of ore and associated refuse. 
Coastal communities launched legal proceedings against the PNG Government in December 2017, after their calls for the release of project documents were ignored over many years.  The case was brought under section 51 of the Constitution which states that "[e]very citizen has the right of reasonable access to official documents, subject only to the need for such secrecy as is reasonably justifiable in a democratic society…".  Whilst PNG's Constitution provides for this fundamental right, PNG's Parliament has not introduced freedom of information legislation.  This means that only court action under PNG's constitution can compel a public authority to release documents they have refused to disclose.
EDO's partner in PNG, the Centre for Environmental Law and Community Rights (CELCOR), based in Port Moresby, is representing the four community plaintiffs in these proceedings.
In early 2018, the Mineral Resources Authority (MRA) filed a motion to have the communities' case dismissed on the basis that no reasonable cause of action was disclosed, the proceedings were frivolous or vexatious or are an abuse of process.
MRA's motion was heard on 17 July 2018.  On 11 September 2020, the Court handed down its decision, dismissing MRA's motion.  This essentially means the plaintiffs have a legitimate case to be heard and they can proceed to a full hearing which will determine whether they will be entitled to the documents they have requested.
Mr BJ Kim, International Program Manager at the Environmental Defenders Office said:
"This is a significant milestone in these landmark proceedings, which is one of the first public interest freedom of information cases brought under the PNG Constitution.

"The first and critical step to achieving environmental justice is access to information.  Communities facing mining or logging projects in PNG, our closest neighbour country, often have to work for years before they can access even basic project documents taking place on their own land.  By the time they obtain the documents, often the environmental damage is done and it's too late for any legal action.  Any ruling which supports freedom of information in PNG will be incredibly significant for environmental justice in that country."  
Mr Peter Bosip of the Centre for Environmental Law and Community Rights (CELCOR), the lawyers representing the plaintiffs said:
"Our clients, as Papua New Guinean citizens, are entitled to these documents.  It's disappointing that they have been forced to bring a legal action in the National Court to assert such a basic right and that the MRA spent PNG taxpayer funds in seeking to have the case dismissed.  This case is in the PNG national interest as freedom of information is fundamental to any democracy.  Last week's decision is a significant step forward for freedom of information and access to justice in PNG."
Jonathan Mesulam, Alliance of Solwara Warriors and another plaintiff said:
"Not only did the MRA spend two years trying to block our access to information, right now it is undertaking a process to renew the Nautilus Niuguini deep sea exploration licences.  This goes against the views expressed by the MRA's own Managing Director, the Hon. Prime Minister James Marape, other senior ministers and the thousands of people from New Ireland, Manus, East New Britain, Madang, Morobe and Milne Bay Provinces who lodged objections to seabed exploration licences. Who is in charge of this Authority?"