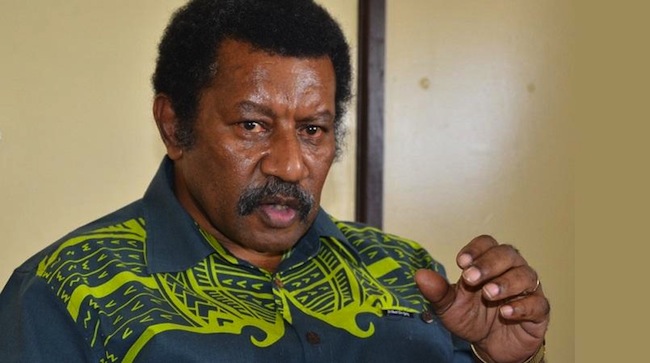 Photo: The Chief Secretary is fumbling to explain why the government has done nothing for 28 months…
Source: PNG Exposed
What a difference five days can make!
On Sunday the Chief Secretary was proudly trumpeting the government's response to the SABL land grab. Now, after a few well aimed blows from Governor Gary Juffa and NGO ACT NOW!, who have pointed out the government has taken over two years to arrive at a  point where it is still only promising some action to cancel some leases at some unspecified time in the future, the Chief Secretary is fumbling for answers (see story below).
The government will 'do its best' he says, but "its not easy" – after all, the government has only been working on it for 28 months!!!
Some of the blows delivered to the government:
Ol papa graun imas rausim SABL – Radio Australia
NGO wary about govt promises on SABLs – Radio New Zealand
Lobby doubts government promises of action – Post Courier
Land Secretary must cancel SABL leases – PNG Loop
SABL implementation soon – Govt chief
Author: Joy Kisselpar, PNG Loop
Government Chief Secretary Sir Manasupe Zurenuoc says the government will do its best to implement recommendations of the Special Inquiry into Special Agriculture Leases.
He is aware of the criticisms by Non-Governmental Organisations and other leaders however he says it is not an easy task to carry out.
He says laws will need to be changed and legal implications of each case must be thoroughly examined before action is taken.
Over the weekend Zurenuoc announced that he has received a report from the special task force appointed by the government to study the recommendations of the SABL inquiry and provide a way forward for the government.
He says the report has cleared the way for the government to implement the recommendations.
Implementation will be effective as soon as amendments are made to laws governing Special Agriculture Business Leases.