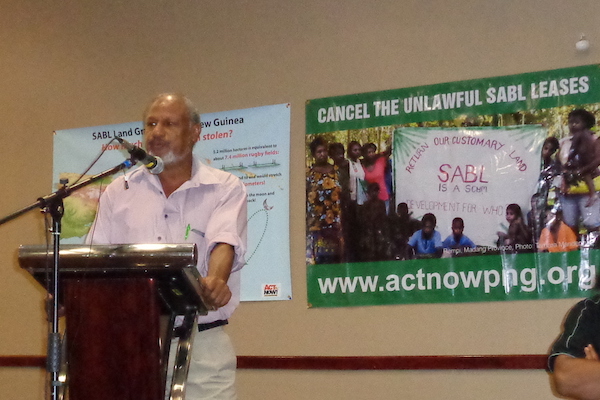 Lester Seri speaking at the SABL petition presentation in 2017
Two customary landowners have been served with a defamation lawsuit and a gagging order application by Malaysian owned logging company, Northern Forest Products Limited.
Lester Seri and Christian Maravis are being sued over two letters written to government departments and an article published on the internet in which they question the legality of logging operations in the Collingwood Bay area of Oro Province. 
Seri and Maravis have claimed the logging operations do not have the informed consent of local people and have not been through the full, proper legal process. 
These claims are vigorously denied by Northern Forest Products, the company behind the new logging operation. 
Northern Forest Products says it is establishing a legitimate and lawful integrated agriculture project. The company says it has a partnership agreement with a local company, Aisor Development Corporation, and has been granted a lawful and legitimate Environmental Permit and Forest Clearance Authority. The company says it currently has over 5,000 cubic metres of logs awaiting export to China and an Export Permit signed by the Forest Minister.
Meanwhile, Oro Governor, Gary Juffa, has also stated his belief that the logging is illegal. He has recently overseen a police operation at the  logging site and says the logging equipment and cut logs have been impounded. "Illegal Logging Site Shut-Down, Asians Jailed" was a March 16 headline in the Post Courier reporting on the police action.
Despite the highly publicised actions by the Governor and the police and Juffa's unequivocal statements about the illegality of the logging operations which have been published in a daily newspaper and other media sites, it is Seri and Maravis who have been served with a writ claiming damages for defamation and an application for an injunction gaging them from any interference in the export of logs. 
Seri and Maravis are no strangers to court action having been involved in efforts to protect the Collingwood Bay area of Northern Province from logging and industrial development since the late 1990's. 
In 2014, Seri and Maravis were among the plaintiffs who successfully challenged two Special Agriculture and Business Leases granted to Sibo Management Limited and Wanigela Agro Industrial Limited. The National Court declared the leases, covering some 38,000 hectares of forest, null and void. 
Twelve years earlier Seri and Maravis were among the Maisin and Wanegela landowners celebrating another court victory after successfully challenging a lease granted for logging and oil palm planting in the same area of forest.